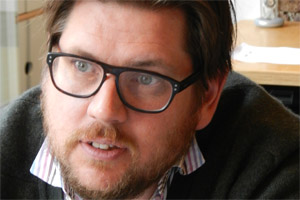 I got into the event industry because I got spotted at the New Designers graduate exhibition by Park Avenue. They invited me for an interview and their work blew me away, I didn't know anything about brand experiences, but they seemed to combine all the areas of design, creativity and construction that I loved. I managed to get the job and have never looked back.
I have worked here since leaving Park Avenue seven years ago to set up Flourish with Catherine Smee.
I was attracted to this particular role because it was a chance to do stuff on our own terms: to focus on the best solution rather than the most profitable one, to be independent and to work with someone I respect and admire.
Not many people know that I was British National Hovercraft racing champion.
My worst experience at an event was when we were let down by a client's supplier that resulted in me physically building a bar from left-over signage as the guests walked in for opening night.
If there's one thing I've learnt it's the more fun you have doing it the better the end result.
The best event I've been involved in was the 2010 FIfa World Cup in South Africa - the most extraordinary group of people coming together in a truly special country with spectacular results. I cried tears of joy on more than one occasion.
If I could do it all over again I would start Flourish a year or two earlier.
The one thing I can't stand is indecision.
Outside of work I spend my time fly-fishing, cooking, tending the allotment and playing with my little boy, Arthur.
If money were no object I'd have my own seat on the tube and employ a full-time barista.
Want to be featured in a future My Event World? Email news editor Samantha Edwards for further details.
For more in-depth and print-only features, showcases and interviews with world-leading brands, don't miss the next issue of Event magazine by subscribing here.
Follow @samedwardsevent