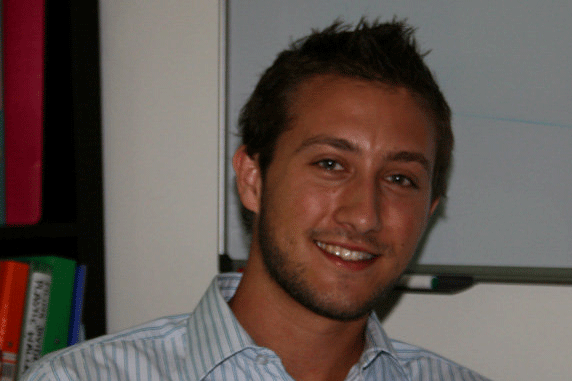 I have worked here since the beginning of Green Ant Events, a few years ago but have been involved in events in one way or another since I was 13.

I was attracted to this particular role because event management has always been something I have had a passion in doing, from a very young age.

Not many people know that I am also a magistrate (justice of the peace) and part time university lecturer on BA(Hons) Event Management in Cardiff when not working.

My worst experience at an event was when I was working on the 15th Asian Games in Qatar, nearly having my exit visa denied after spending six weeks there due to a speeding ticket that I did not know about. Oops.
To top it off when I did get my visa through, I woke up four hours after my flight left due to over-indulging at the games closing party, and had to pay for an entire new flight home. Nightmare.

If there's one thing I've learnt it's always to be friendly and chatty to everyone, and never dismissive or instantly judgemental. Some of the most interesting, and useful people I have ever met have been completely randomly. Whether that's someone in Starbucks who ends up giving you free coffee, through to someone I was randomly chatting to on the train, who ended up being one of the worldwide group chief executives of HSBC.

The best event I've been involved in was Green Ant Events producing a party end of last year for one of the Royal Family in Abu Dhabi. They were so pleased they have asked us to start a company out there so we can do more events for them.

If I could do it all over again I would not change anything. Part of the excitement of life is doing things you don't enjoy sometimes, making mistakes and logically bad decisions. I do, however, believe all experiences that you go through make you who you are today, and I like to think I have no regrets. That all sounds a bit cheesy doesn't it? Hmm.

The one thing I can't stand is people who don't give you honest answers to questions. Life would be so much simpler if people admitted when they need help or assistance. People who don't think things through logically irritate me too. And also very stuck up people. Come to think of it, there are quite a few things that I can't stand.

Outside of work I spend my time doing work too, or performing my magistrate duties. Also I love going out, drinking cocktails, travelling when I get a bit of spare time, and trying to sort my house out.

If money were no object I would buy a private island, probably in the Caribbean somewhere or maybe next to Mr Bransons. It would have a selection of helicopters and jets, kind of like Tracy Island in Thunderbirds. It would have the addition of a few different key feature areas, such as a Balinese spa complex, a number of cocktail bars, themed guest accommodation and lots of cool leisure activities.

The one event I will never miss is a festival that we were involved in, that had a couple of the worst people I have ever met on its committee. They basically had the mentality of what I would like liken to small unintelligent goldfish, whose emphasis for the entire event was cost over public safety at all costs. Not really sure why I used a goldfish as an example actually, I quite like goldfish.

The recession has meant a really fantastic year for Green Ant, we have had a busier year than ever before which is an encouraging sign. On a personal downside, I wish I had bought my house a couple of years later so it didn't drop in value.

The next 12 months will be hopefully even more exciting than the last 12. This year should see Green Ant launch out in the Middle East, along with diversifying its company portfolio to include our specialist mobile cocktail bar company "Tetrabars" which will launch this year too.

If I could switch places with anyone else in the industry it would probably be Michael Eavis. Actually, thinking about it, does that mean you automatically inherit their age. If so I possibly may rethink that answer.

If I ruled the event industry I probably merge all events companies into one big one that I was in-charge of. It would be pretty cool having all companies working under one roof and not competing against each other - what an awesome work environment that would be - just everyone doing what they are good at with no competition. I would also get rid it of boring people, ensure that it was martial law that everyone had to be fun, bouncy and creative in work.
To add a comment register and let us know your thoughts.