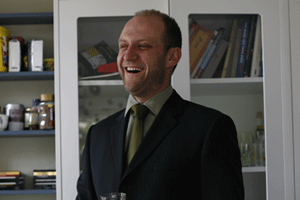 I got into the event industry because
I gave up a career as a professional opera singer and started Big Voice Productions, which produces Opera Events for the corporate sector. In 1998 I married Zafferano founder Vivienne Gonley and the rest is history.
I have worked here
since 2001.
I was attracted to this particular role because
it allowed me the freedom to drive a small business with a strong product onto the front line of London party catering.
Not many people know that
as an opera singer I sang on the soundtracks of
The Phantom Menace, Lord of the Rings
and
Pirates of the Caribbean.
My worst experience at an event was
when one of our staff mini-buses broke down (see below) on the way to an event at a stately home outside of London. I was already at the venue with one of our operations managers, and the guests had started to arrive before we had any of the 17 Zafferano staff on-site.
If there's one thing I've learnt it's
don't put unleaded petrol in a diesel engine.
The best events I've been involved in are
the flamboyant private parties where the client goes completely over the top. For example, booking The Australian Pink Floyd Show to play in your back garden.
I
f I could do it all over again I would
have employed a top-flight general manager from the start.
The one thing I can't stand is
lateness.
Outside of work I spend my time
trying not to 'twitter' about Zafferano. I also enjoy cycling, going to the opera, travelling with my family and seeing friends.
If money were no object I would
buy two or three of the companies I admire.
The one event I will never miss is
the Enotria wine fair. It's a fantastic day comprising more than 50 wine producers from all over the world, 800 guests who really know about food and drink, and lunch by one great caterer.
The recession has meant that
we have looked after our existing customers and worked harder for a smaller margin. The recession has also meant that we are enjoying coming out of recession. It's a bit like yoga – the real benefit is the relief one feels after the pain of an uncomfortable position.
The next 12 months will be
great. New clients, new venues, new developments and lots of fun.
If I could switch places with anyone else in the industry it would be
my wife, she works part-time.
If I ruled the event industry I would
review the culture for commissions payable.
To leave a comment
register
and let us know your thoughts.