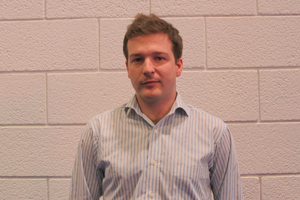 I got into the event industry because I was like a moth to a flame having studied lighting design at university, so wanted to continue this by focusing on the visual elements of live event.
I have worked here since I founded the company with my business partner Jack James in 2009. We met as freelancers. A couple of gigs and bottles of wine later and the rest is history.
I was attracted to this particular role because the emergence of video as a central feature of live events was a logical progression from lighting.
Not many people know that I would like to retire to Colombia, preferably by the sea.
My worst experience at an event was waiting an hour and half for Rihanna to arrive at Westfield for the Christmas lights switch on. We were managing the live video feed to the stage, and finding something visual to keep 20,000 people entertained was truly challenging.
If there's one thing I've learnt it's you should always check content and check it again. You can never check quality of digital renders or exports enough.
The best event I've been involved was... well the bigger the better really. Film premieres are usually a great buzz. I enjoy anything with a live element to it. The Avengers premiere was pretty crazy. The view from the red carpet to the eagerly awaiting public was epic as we managed the live feed from the outside broadcast truck to temporary screens and into the 12 screens of the Vue cinema. The excitement and enthusiasm of fans was infectious, making it a really engaging project to work on.
If I could do it all over again I wouldn't change a thing. The experiences are what make you good at your job, especially in the narrow time frames we work within at events. I learn something from everyone, no matter how good or bad they might seem at the time.
The one thing I can't stand is lack of backlighting at events, this will destroy your camera shot.
Outside of work I spend my time outdoors, boating with friends. South Devon is a popular haunt of ours so that is where you will find me.
If money were no object I would make sure that charities were properly represented in the live event space, as this is such a crucial part of the marketing mix, providing great brand and profile opportunities.
The one thing I can't do my job without is my Mac Pro. I think other designers will feel my pain on this one as Apple is now stopping the manufacture of the old generation which will make life a lot harder for people like me on set and in our edit suites.
If I could switch places with anyone else it would be the person from Apple who made the Mac Pro decision. That would be immediately reversed.
If I ruled the event industry I would revolutionise the award show format to make them more relevant and engaging for everyone in the room, not just people who are up for awards at any given time.
Want to be featured in a future My Event World? Email news editor Samantha Edwards for further details.
For more in-depth and print-only features, showcases and interviews with world-leading brands, don't miss the next issue of Event magazine by subscribing here.
Follow @samedwardsevent