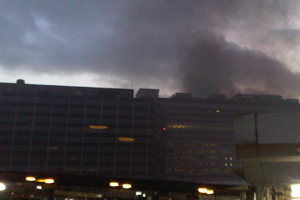 The FA has confirmed the England v Holland international friendly, scheduled to take place at Wembley Stadium tomorrow evening (10 August) has been cancelled following the riots.
Carling Cup matches at Charlton, West Ham, Crystal Palace and Bristol City have also been postponed.
There are also rumours on Twitter that the Notting Hill Carnival could be canned if the problems are not resolved. A spokesperson for the carnival was not available to comment.
London & Partners, the official promotional agency for London, told Event it is closely monitoring the situation, with the World Badminton Championships at Wembley and the Beach Volleyball International at Horse Guards Parade still set to go ahead.
"It is currently too early to anticipate the effect on tourism and the major events sector but we are monitoring the situation and we will work with the industry to respond to specific issues as they arise," said a London & Partners spokesperson.
"Past experience tells us that London recovers very quickly from such events and we will focus on recovery activity as soon as it is viable to do so," they added.
Further afield in Suffolk, music festival Brandon Buzz, due to take place on 28-29 August, has been shelved.
Organisers told the BBC they received "intelligence" gangs of young people planned to fight at the event.
"These youngsters were going to use weapons and have this fight and I couldn't take the chance," said joint organiser Eddie Stewart.
With London 2012 less than a year away and test events currently taking place in the capital Olympic organiser Locog is also keeping an eye on the situation.
A spokesperson told Event it is "reviewing things as they go" and is in contact with the Met Police and the Home Office.
The Hackney One Carnival was cancelled last minute on Sunday (7 August) due to riot fears.
Has your event been cancelled as a result of the riots? Let us know by registering and leaving a comment.