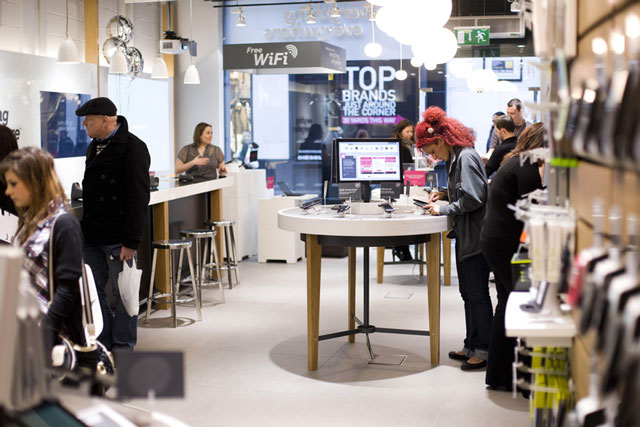 As part of the realignment it is understood that a T-Mobile-branded app, which tied in with its 'T-Mobile's Night In' promotion, in conjunction with retailer Blockbuster, is being axed by Everything Everywhere management. The deal offered customers five film-related items for £5.
A source told Marketing that the app 'conflicts with an existing Orange promotion for cinema', and will therefore be dropped.
The realignment was denied by an Everything Everywhere spokesman, who said: 'We're very happy with our partnership with Blockbuster, and are currently looking into how we can extend and improve this partnership.'
Everything Everywhere, a 50-50 joint venture between France Telecom and Deutsche Telekom, last month launched its first Everything Everywhere-branded trial store in Altrincham.
Further trial stores will open in Bishop's Stortford, Eltham, Lowestoft and Evesham.
Branch staff in these stores have been given training on both the T-Mobile and Orange brands. The intention is that they tailor brand and contract to the customer's need.
Everything Everywhere recently rolled out an above-the-line ad campaign to highlight the benefits of a merged Orange and T-Mobile.
The push, developed by Saatchi & Saatchi and Fallon, features adjacent ads in the style of the two brands interacting in a humorous way.
In its first nine months of operation, Everything Everywhere has lost 1m pay-as-you-go customers across Orange and T-Mobile, while profits fell 22% year on year to £837m.
Expert View
Ben Cusack - Marketing director, Mobile Interactive Group
This move makes perfect sense. Orange is synonymous with the film industry with its Orange Wednesday campaigns.
T-Mobile ran a campaign called 'Web "n" Walk' about the web in your pocket, and more recently it has put social media to good use, with its flashmob ads becoming huge hits on YouTube.
However, both brands will also benefit from the use of each other's networks. The robustness of networks will become a more important issue, particularly as smartphone use increases, making both brands more attractive.