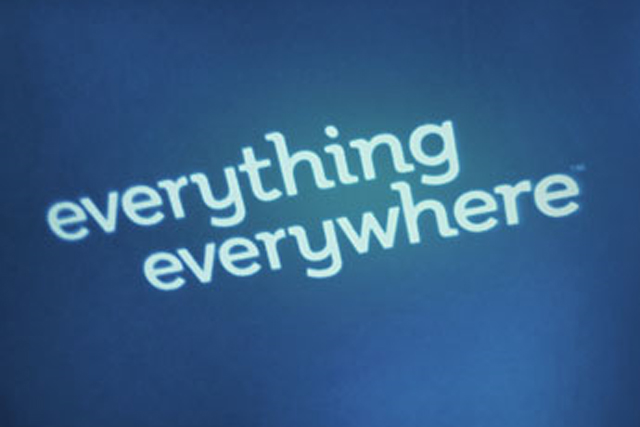 The first of five trial stores will be located in Altrincham followed by openings in Bishops Stortford and Eltham. Stores in Lowestoft and Evesham will be launched within five weeks.
The five-store trial is expected to last up to six months.
Everything Everywhere has already trialled dual-branded Orange and T-Mobile stores.
It revamped six of its single-branded stores, in towns such as Tooting, Bridgend and Dorchester, in the run-up to Christmas.
The glass-fronted stores have been designed to give customers a visual and interactive experience with clean and simple architectural design. Posters and point-of-sale will be not be displayed.
The new stores will have "live" interactive devices and tablets and customers will be able to download the latest applications direct to their handsets. The stores will also handle phone repairs.
Customers of any network will be able to charge their phones.
Andrew Coull, vice president, retail, Everything Everywhere, said: "We're a pioneering company with a deep-rooted belief in commercial exploration across all elements of our business."
"We're passionate about building stronger relationships with customers of both our brands, and this is the latest in a string of live retail trials that will help us deliver a unique 21st century retail experience for our customers, creating a fun, interactive environment which brings our products and services to life."
Everything Everywhere currently operates 720 stores across Britain trading through the Orange and T-Mobile brands.