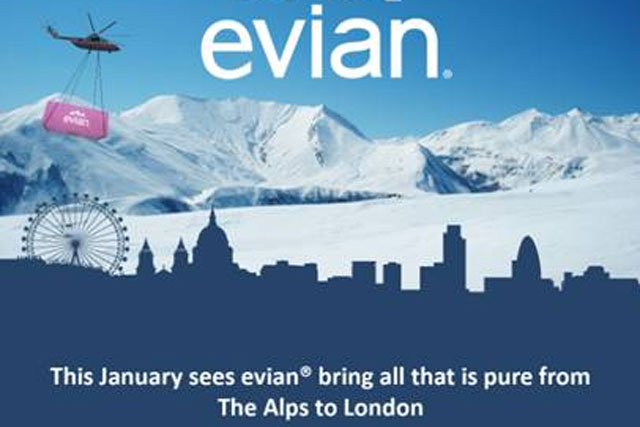 Blandine Stefani, marketing director at Evian, told Marketing that the campaign would use the "purity of Evian's Alpine origin, the bedrock of the brand, to set it apart in the market".
The campaign, taking place on London's South Bank, has been created by agency Design Arrival and PR agency Shine Communications.
Consumers can apply for a 45-minute slot within a derelict container planted on the South Bank, to receive a "one-off pure experience", including fresh air from the Alps and a warm log fire.
They can apply through the Evian Facebook page for themselves and six friends to experience the space.
Evian's Facebook fans will also be able to choose a range of "Alpine surprises", ranging from a troop of Lederhosen dancers, to a fleet of husky puppies, to burst in on consumers while in the container.
Stefani said January was an opportune time to create a purity experience for consumers and to reiterate the benefits of drinking water, explaining that "people don't drink as much water at this time of year".
She said: "Consumers expect Evian to deliver its messages in a different and unique way, which is why we are dropping a container with fresh air from the Alps, with an eating and drinking experience, into London."
All aspects of the campaign and the consumer experiences within the container will be filmed for people to watch on YouTube.
This is the first campaign of its kind for Evian, which could be reproduced in other cities depending on its success.
Stefani said the main marketing activity for the rest of the year would continue with the 'Live Young' and 'Evian Babies' campaigns, to "keep building on brand message and uniqueness with consumers."
Follow Loulla-Mae Eleftheriou-Smith on Twitter @LoullaMae_ES