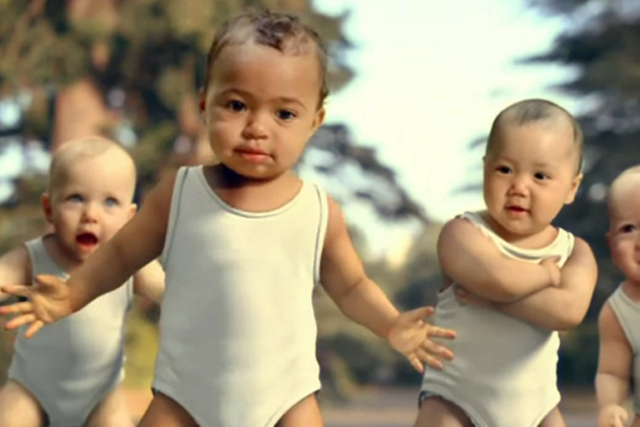 Anticipating the announcement of a royal birth, the social video expert Unruly compiled the list, ranking shares of ads across Facebook, Twitter and the blogosphere.
Taking first place, Evian's "roller babies", created by BETC Euro RSCG (now called BETC Paris), tops the list with more than three million shares since it was published in 2009.
The most-recent ad from the bottled water brand, "baby & me", by BETC Paris came in second place with 2.9 million shares.
Evian and BETC Paris also feature in the chart a third time with their "baby inside" ad, shared just short of 300,000 times.
Meanwhile, an in-house ad created for Studie43, in which a baby dances the jive, was shared 2.4 million times.
The ad, filmed by the parents of protagonist William Stokkebroe to promote their dance studio, was a viral sensation in April 2012 – knocking the hugely popular "Kony 2012" video from top spot in Campaign's viral chart.
In fourth place, an ad for Google, which sees a man using the search giant's Gmail product to create a real-time account of his baby daughter's life has been shared 480,000 times since it was created in 2011.
The ad, created by Bartle Bogle Hegarty, was an early addition to the brand's "the web is what you make of it" campaign, which has also featured the youth entrepreneur and founder of SBTV, Jamal Edwards.
Further down the chart, Kit Kat India's attempt to emulate the success of chart-topper Evian's dancing baby ads, is the eighth most-shared with 258,000 shares.
A surreal ad for Wilkinson's Sword, in which a baby prepares to fight against his father over who has the softest skin, follows in ninth place with 246,000 shares.
1. Evian "roller babies" by BETC Euro RSCG
3,121,628 shares all time

2. Evian "baby & me" by BETC
2,884,629 shares all time

3. Studie43 "two-year-old dancing the jive" created in-House
2,362,093 shares all time

4. Google "dear Sophie" by BBH NY
487,263 shares all time

5. Rocksmith "guitar baby!" by Clearwater
391,660 shares all time
6. Evian "baby inside" by BETC
287,214 shares all time
7. Animal Planet "the sloths are coming" by The Conquistadors Collective
265,919 shares all time shares this week
All time: 265,919 shares
8. Kit Kat "dancing babies"
258,445 shares all time shares this week
All time: 258,445 shares
9. Wilkinson Sword "kung fu baby"
246,035 shares all time shares this week
All time: 246,035 shares
10. E*trade "first class"
224,155 shares all time shares this week
All time: 224,155 shares