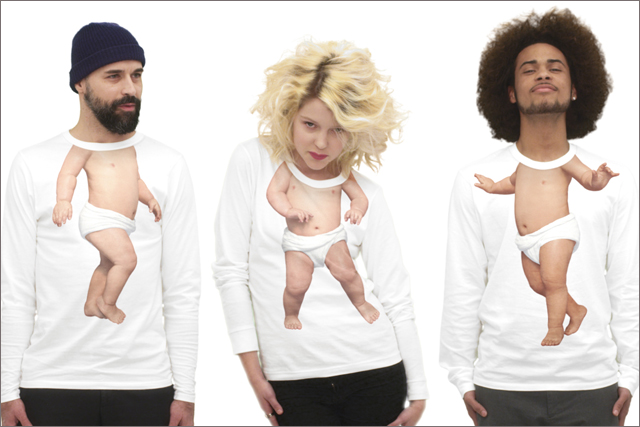 BETC Euro RSCG's "Baby Inside" ad uses a series of images of people wearing t-shirts that have an image of a baby's body on the front, from the neck down.
The images are shown in quick succession, resembling a flipbook, to animate images and make them appear as though the baby images are dancing.
The ad, which keeps Evian's 'Live Young' strapline, has debuted online, while the TV ad will run globally from June.
The TV ad will use a remixed version of Gangster Paradise's 'Rappers Delight', referencing the roller-skating babies ad from 2009, which gained a place in the Guinness Book of World Records for achieving more than 45 million views online.
The online ad shows the same content but uses a version of Tom Tom Club's 'Word Rappinghood', remixed by DJ Mehdi and Uffie.
The global campaign is supported by cinema, online, point of sale and event activity.
Evian has also developed an interactive iPhone app for consumers to upload their own pictures to a dedicated website and use the dancing baby image and participate in an attempt to make the world's longest music video.
Consumers will also be able to participate in the music video during sporting events, including the Evian Masters, Wimbledon, the US Open and Australian Open.
Last month, Campaign revealed that BETC Euro RSCG, the Havas-owned creative shop is plotting the launch of a UK office.