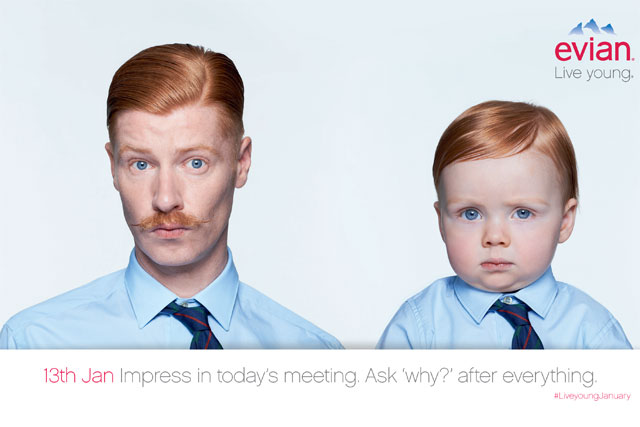 The global #liveyoungjanuary campaign – building on Evian's adult playgrounds that were set up in London last year – launched on the brand's Facebook and Twitter accounts yesterday.
It will offer a new message every day in January, urging people to embrace their inner youngster, such as: "This new year, ask your inner child out to play." The ideas are accompanied by the hashtag #liveyoungjanuary.
The ads uses the creative from the bottled water brand's "baby & me" spot, which showed adults dancing with baby versions of themselves. The film, set to a remix of the Ini Kamoze song 'Here Comes the Hotstepper', was the most-watched ad on YouTube last year.
Sophie Brooks, a senior brand manager at Evian, said it wanted to "inject some Live Young attitude" into what could be an "uninspiring month".
Evian's social media agency We Are Social devised the campaign and produced the social, press and outdoor ads. MEC booked all the media, while 360 Comms is handling the PR and experiential side of the campaign.
The creative, devised by the creative directors Graham Jenks and James Nester, will be used in the UK France, Germany, China, the US, Switzerland and Belgium.
It will appear on digital screens in ten London train stations and on digital escalator panels in six central London Underground stations. In keeping with the digital activity, the 'Live Young' suggestion will change daily.
The ads will also appear in commuter press titles across London from next Monday 6 January.
Deola Laniyan, a senior account director at We Are Social, said: "Commuters often log in to social media on their journey to work, so it's the ideal platform to activate the campaign."