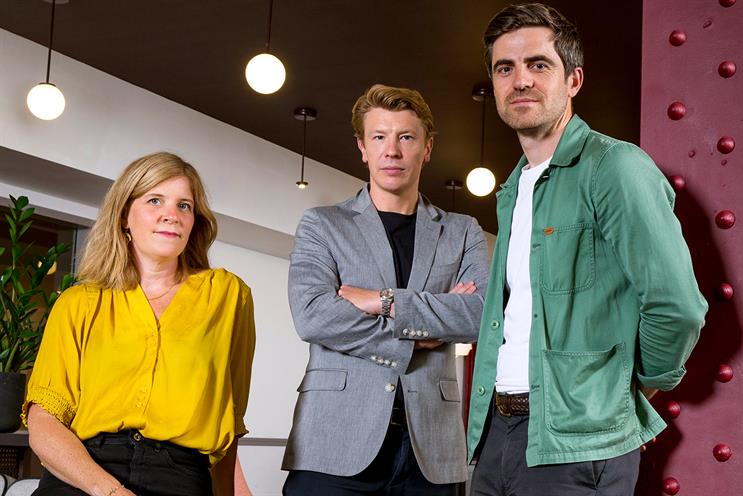 BBC Creative leader Aidan McClure will be the executive creative director of the agency. Jessica Lovell has joined as chief strategy officer, and Alex Best is chief operating officer.
The hires have been much anticipated since Abraham, who left Channel 4 last year after seven years as chief executive, unveiled his plans for Wonderhood in April. Abraham was a founder of the creative agency St Luke's before moving into broadcasting.
McClure, Lovell and Best will have equity in the business.
Wonderhood is comprised of two adjacent studios: Studio A, the full-service advertising agency, and Studio C, which will produce programming for broadcasters and platforms. A third part of the business will specialise in media data insight and the development of future digital networks.
The programming team is led by former BBC Studios executive Samantha Anstiss.
McClure has been the joint executive creative director of BBC Creative, the broadcaster's in-house agency, since 2016. His creative partner of 14 years, Laurent Simon, remains executive creative director there. Following McClure's departure BBC Creative will recruit a deputy ECD to work with Simon.
Justin Bairamian, the director of BBC Creative, said: "We'd like to wish Aidan all the best for his new role and thank him for his hard work in building such a strong team over the last two years. We're delighted that Laurent Simon will immediately take a more central leadership role at BBC Creative. We're very lucky to have someone of Laurent's calibre leading the charge. He's been central to the success we've had so far and we're really confident we'll be able to move on to the next level under his creative leadership."
In the time McClure and Simon have helped establish BBC Creative, the agency won its first Cannes gold Lion this year, for BBC One's Christmas 2017 campaign.
McClure was previously a creative director at Adam & Eve/DDB, where he and Simon created John Lewis' Cannes Lion Grand Prix-winning Christmas ad in 2013, "The bear and the hare." He also worked as a creative at Abbott Mead Vickers BBDO, Bartle Bogle Hegarty and Mother.
"I've loved being in broadcast but have also missed advertising," McClure said. "Wonderhood Studios is a unique opportunity to collide the best bits of these two worlds and to come at problems in a genuinely fresh way."
Lovell was most recently executive strategy director at A&E/DDB, where she worked with Mars, Diageo, Coty and Camelot. Her new role reunites her with Abraham, with whom she worked at St Luke's before spending 11 years at Mother.
She said: "The blend of talent being brought together in Wonderhood Studios provides an incredibly exciting opportunity to innovate again, creating a new way of approaching the challenges facing brands today."
Best has worked as interim general manager of Vice Media's creative agency, Virtue, as well as a partner at CHI & Partners [now The & Partnership London] and in roles at Wieden & Kennedy, Fallon and TBWA. He said Wonderhood would "offer clients a genuinely different approach to their brands' challenges in an environment in which attention spans are shifting fundamentally."
Wonderhood has not signed on any clients yet and is making further hires in the agency's creative and strategy teams. Including the new management trio, the company now has 12 employees.
Despite Wonderhood's broadcast capabilities, McClure, Best and Lovell insist that the agency will not only focus on TV and film advertising. It will also build bespoke freelance teams for projects.
Abraham said: "Over the past few months I met many talented people to explore how the vision for Wonderhood Studios is realised. Aidan, Jessica and Alex have been integral to much of the recent breakthrough brand thinking which I admire and are also three of the most likeable and collaborative operators in the business.
"These appointments now give us the capacity to begin taking on the biggest strategic challenges which brands want to throw at us and we are hungry to get out there and start building fresh and progressive partnerships with clients."