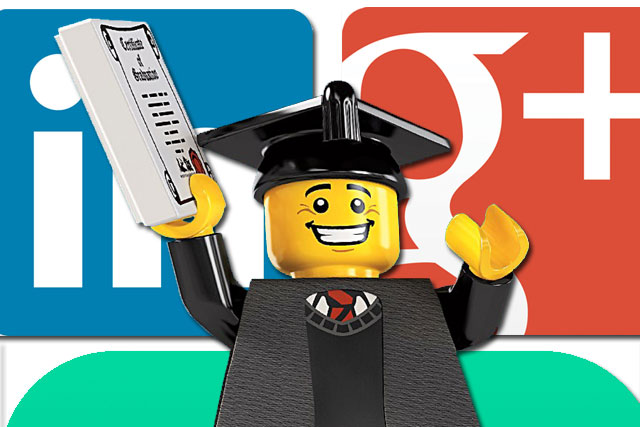 | < 50% Back to school | 50-70% Socially challenged |
| --- | --- |
| You're not exactly top of the class, must try harder! | Keep going! You've got a good base knowledge, you're just a little rough around the edges. |
| 70-90% Rising star | 90% Social guru |
| You've good a strong working knowledge of social media. | You probably know more about social media than your peers. Congratulations. |
Select from this list the Top 5 largest social networks in the UK.
Facebook, Linkedin, Tumblr, YouTube, Twitter
---
Which site is primarily used for …
Professional networking: Linkedin
Sharing your inspirational photos: Instagram
Sharing breaking news: Twitter
Building a community: Facebook
---
What percentage of Facebook users access the network from a smartphone?
70%
---
What percentage of Lady Gaga's Twitter followers are fake?
71% are fake
---
What is a realistic engagement rate on Facebook?
0.25%
---
What is the type of update on Facebook is, statistically, most engaging for fans?
Pictures
---
What are the characteristics of a tweet most likely to be retweeted?
Be authentic, timely, visual and keep it simple
---
Your company's Facebook Page is receiving a large number of negative posts. Which of the below is the best response?
Listen to the comments, engage with the feedback and look to make some real world changes
---
You've posted a terrible tweet from your company's Twitter account. You instantly regret. What do you do?
Devise a fall-out strategy to deal with possible repercussions
How do you best keep your Twitter followers happy and engaged?
By providing a consistent stream of useful information
Which of these activities is most critical to your company's success in social media?
A detailed social media strategy with a clear vision and goals
Which of these is a worst contributing factor to a total social #fail?
Having all of your social passwords in the hands of one employee
Which one of these Western social networks are accessible to the Chinese market?
LinkedIn
---
You run social media for Burger King. You've just reclaimed your account from the hackers. What is your first tweet? (remember your 140 character limit!)
Honesty and openness are great policies and a bit of humour goes a long way. However, do not under-estimate the seriousness of the issue. A "well that was #awkward" will not suffice.
---
You work in Oreo's social newsroom. It's the day after the Superbowl. Everyone is talking about your timely tweet. What do you do to maintain the buzz? (200 word limit)
Listen to the buzz, react and build off of it. More so, bask in your glory for being the Twitter celeb of the hour. We salute you.
---
You've just found an extremely negative comment on your company's Facebook Page. It has only been there for 10 minutes, but has already gathered more than 300 likes and 20 comments. What do you do? (200 word limit)
Social Customer Service is all about immediately addressing your customers' concerns. We would recommend that you immediately issue a holding statement to let the customer know that their concern has been acknowledged. You should then plan to fully respond by the end of the business day, absolutely no more than 24 hours in any case. This is how complaints go viral.
---
What would you do if a third party started a parody account poking fun at your company? (200 word limit)
You should have crisis plans in place as part of any solid social media strategy.
---
Imagine it's a totally average day for your brand – there's no products launching or new ads rolling out and definately no crises to manage. What is your first tweet of the day? Bonus: post it for real using hashtag #MarketingSME so we can track your response. (remember your 140 character limit!)
Stick to the strategy, mind the tone of voice, have fun and happy tweeting.