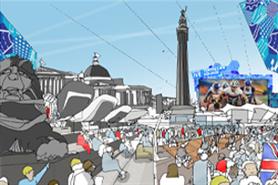 The tight security will be in place at the Hyde Park and Victoria Park sites which will broadcast Olympic Games coverage on big screens and hold music and sport events from 27 July to 12 August.
John Probyn, chief operating officer for London Live's promoter Live Nation, said: "The security services will search the sites a couple of days before we open and then we have to vouch for every person, item and every piece of equipment from that point on, so it effectively becomes a sealed site."
Probyn said he hoped security checks would take less than one hour for visitors to pass through.
"Every person entering the site, including crew and artists, will either pass through a scanner or be searched," he said.
Security company Showsec will manage the scanners and searches. Live Nation is working with the police and Showsec to plan the number of entrances and how visitors will be directed to the scanners.
"I'm hoping our staff will have more smiles on their faces than the staff you get greeted by at some airports," Probyn said.
To leave a comment register and let us know your thoughts.
For more in-depth industry features, showcases and interviews with the world leading brands don't miss the next issue of Event magazine by subscribing here.
Tweet