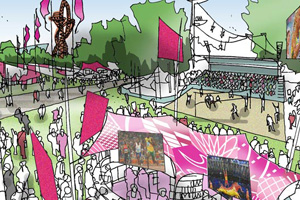 An Olympic version of the music and food festival fronted by the popular chef was planned for this summer in Victoria Park, one of the BT London Live sites offering entertainment and big screens showing Olympic coverage.
Organiser Taste Festivals, who bought the event from Rouge Events late last year, decided not to go ahead with the event as it was concerned branded stalls might break Locog's rules, which state that brands that are not Olympic sponsors cannot associate themselves with the Games. The decision to cancel the event was made three months ago.
Justin Clarke, CEO of Taste Festivals, said: "The desire to do something was there, but there wasn't clarity around Olympic sponsorship and what was and wasn't a controlled area. A Live Site is in an unusual position where it is official but unofficial – it's under the regulation of the Greater London Authority [GLA] but it needs to adhere to Locog regulations as it's linked to the Olympics.
"With that set of dynamics there was a whole lot of interpretations. It was possible that any exhibitor at the Feastival could have been regarded as a competitor to the Olympic sponsors.
"No-one really could give clarity because events like this haven't been done before. The scale of the risk was hundreds of thousands of pounds."
Clarke told Event detailed plans had been made for the Olympic Feastival: "It was ready to go: we knew who the sponsors would be if we could sign them, we knew who our exhibitors would be if we could accept them and we knew who the talent would be if we could do the event. We set our own parameters on what we needed to have confidence about before we officially launched."
He added: "The GLA team were keen for an event to represent the great food and drink in this country. The other party that really wanted to get involved and was disappointed was Jamie Oliver."
A GLA spokesperson told Event it had worked closely with Taste. "The decision to cancel was Feastival's, based on the issue around branding," the spokesperson said.
Brand Events, which runs Taste Festivals, took over The Big Feastival last year after it was launched last summer by Rouge Events on Clapham Common.
As a result of the Olympic event being abandoned, Taste will hold this year's Big Feastival from 1-2 September at Blur bass player Alex James' farm in Oxfordshire.
"Because the option of Alex's farm open to us as well, it made cancelling the Olympic Feastival an easier pill to swallow," said Clarke.
He said a few changes would be made to last year's festival: "I think [Rouge] got a lot right with Big Feastival last year – it's a music and food led festival and the premise is good. The big thing we're changing is that it's on a farm and we're making it a camping event. We're looking at around 20,000 people whereas last year it had about 23,000."
"We can't reveal much more but we can say that Alex James is very excited about the music content and is working with us, and Jamie is very excited about the food and is also working with us. It will feel very relaxed but also very special."
Are event companies unclear on Locog branding and sponsorship rules? Will risks be taken this summer?
To leave a comment register and let us know your thoughts.
For more in-depth industry features, showcases and interviews with world-leading brands, don't miss the next issue of Event magazine by subscribing here.
Tweet