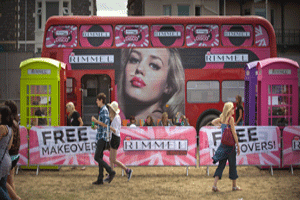 According to the survey more than 5,000 brand decision-makers, the leisure sector recorded an 8% increase in experiential opportunities during quarter three of this year, with the motor sector recording a 1.3% increase.

Other significant findings showed that the FMCG sector leads the way in experiential, while the IT and Telecoms sectors are most likely to review their experiential set-up.

There was a 20% increase in quarter three of sponsorship opportunities for brands, which in turn increased their investment in experiential activity. This coincided with the summer festival season.

"Experiential marketing is now rarely a standalone affair," said Pearlfinders managing director Anthony Cooper.

"The agencies that are most in demand with senior brand decision-makers, are those able to lead a process of weaving live activity into an integrated marketing communications mix.

We are being told that the credibility and authenticity of live events remains paramount for budget holders, and also that they are increasingly attracted to executions founded on insights that show the agency understands both the zeitgeist and the trends ahead.

Our interviews with event marketing decision-makers over the summer were dominated by sponsorship-driven opportunities. We are now hearing that new product launches are the primary reasons for forward planning of experiential activity."

Pearlfinders is a business information company that interviews more than 5,000 senior marketing and communications decision-makers each year.

Jack Morton Worldwide revealed its experiential business would double for quarter four this year.

To leave a comment register and let us know your thoughts.