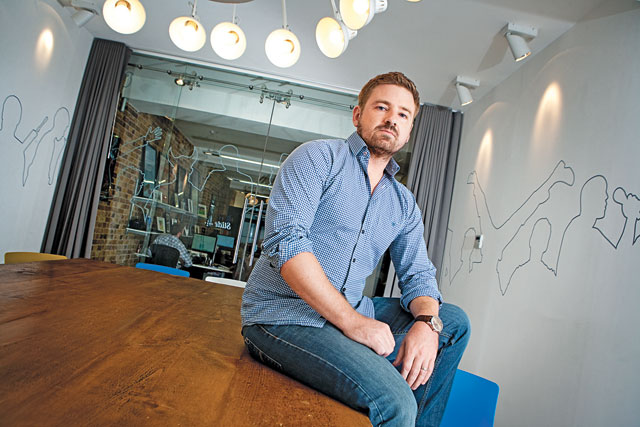 Do people buy a new outfit for the Corrie commercial break, or crash-diet before they see the latest 48-sheet? Hopefully not, but it's not unfathomable to think they might have made a proactive decision to be at their best for something like a movie premiere, Fashion Week or a product launch.
So what's the difference? It's passive accept­ance vs live interaction – eyeballs that are looking, vs eyeballs that are actually engaged with what they see. If people are physically present for an event, whatever it may be, they make an effort. They concentrate. They care.
Experiential is the opportunity to engage in a way that no other form of marketing can come close to. No amount of AR, 3D, fingerprint-scanning, groundbreaking digital creative can compete with a real social inter­action. At their best, events and experiential activations are proactive, emotional and human experiences that focus your attention.
You are making the content, not just liking someone else's. You are truly engaged with the sensations around you, not just cracking a wry smile at YouTube's latest finger-biting video. More than that, most people want to present themselves in a positive way. It means people generally act their best. Have you ever heard of an experiential troll?
Active engagement
Nonetheless, there is such a thing as bad experiential. Just like a bad business meeting, there's no positive engagement. Experiential that doesn't engage is just, well, advertising. A banner with a person standing under it. During Samsung's sponsorship of the Robbie Williams stadium tour, the redemption rate for our exclusive NFC wristbands was a whopping 19.04% – astounding, considering that to use them fans had to delay their entry into the arena by learning all about a brand new technology. For months afterwards, the wristbands were selling for serious cash on eBay. We still get emails from fans asking whether we have spares. But who remembers the official stadium branding? No one. It was just wallpaper.
It's the value of the interaction that is putting experiential at the heart of modern marketing. Importantly, though, it's not just the experiential agencies who are pushing the medium. You have probably noticed almost every agency on your roster is sneaking some sort of experience, stunt, or something "live"
into their proposals.
No amount of ground­breaking digital creative can compete with a real social interaction. At their best, events and experiential activations are proactive
and focus your attention.
Recently, for the launch of a high-profile piece of wearable tech kit, every agency on the brand's roster – PR, media, advertising, mobile, social and our creative agency, too – were told to come up with the full campaign idea and play to our individual strengths. Yet when we collectively returned to pitch our campaign ideas, every agency based its response on some form of experiential. Even the media guys had a crack at it. Something about a balloon with a DOOH screen on it… but it demonstrated that even they saw that experiential is where the creativity lies.
Interaction drives results
I questioned them about it, and on the surface their response seemed entirely cynical: "We put live activity in the pitch because clients like it. Because it's 'real', a physical thing, they can visualise it, imagine the experience and see how it brings the creative idea to life."
Cynical or not, this is the key selling point of experiential. If a client can get excited about the idea of experiential in a boardroom, then put yourself in the shoes of the consumer who will experience the real thing. Clients get excited about it because it IS exciting. Exciting is impact, and impact is something passive media struggles to achieve on its own.
And "on its own" is the salient point here, because it applies to experiential, too. Brand & Deliver isn't a full-service agency for nothing. Though experiential is often central to our thinking, it works best as part of the mix. Our more proactive clients use advertising to signpost the experi­ential, social to measure its success and PR to report it. Every skill-set has its role, and sometimes one or the other ramps up for certain executions, but in general it's the experiential interaction that is treasured – or rather, the result it drives.
So don't question the use of experiential, just what proportion of your budget is allocated to it, and how you value it. Yes, it can be expensive, and on a price-per-person basis it has no chance against traditional media. But value doesn't always mean how many "things" you can get for how little money. As a marketer it's your job to find a balance. Ultimately, how many millions of passive eyeballs equate to how many positive experiential interactions?
---
Ben Gallop, managing director, Brand & Deliver