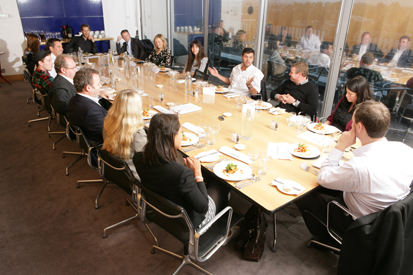 AROUND THE TABLE
Chris Cook, managing director, NINE/Studio Juice
Dean Dempsey, managing director, Made Advertising
Alice Driscoll, managing partner, pd3
Dan Hall, brand manager, iD Experiential
Tony Hall, chief executive, Channel Advantage
Sally Henderson, client services director, NINE/Studio Juice
Andrew Marsden, non-executive chairman, iD Experiential
Sam Richardson, managing director, neon
Jessica Rowley, director, neon
Simon Sá Feio, director, Made Advertising
Mo Saha, creative planning director, pd3
Shaz Smilansky, marketing director and co-founder, Blazinstar Experiential
Andrew McCormick, deputy editor, Marketing
Emma Seely, account manager, Marketing
Alan Stracey, digital account manager, Marketing
READ THE ESSAYS AND WATCH THE VIDEOS
Make a bigger impact - Shaz Smilansky, Blazinstar
Make the personal profitable - Tony Hall, Channel Advantage
The benefit of experience - Andrew Marsden, iD Experiential
Marketing starts at home - Dean Dempsey, Made Advertising
Step into the spotlight - Sam Richardson, neon
An experience shared - Chris Cook, NINE/Studio Juice
Experiential is dead...long live experience - Mo Saha, pd3
Roundtable discussion: Experiential has come of age
By Andrew McCormick
There was a time when experiential marketing was considered only once other types of media had been explored and most of a brand's promotional budget spent. In recent years, however, it has come to play a bigger part in camp­aigns, with brands investing more in the area to provide experiences for consumers that extend far beyond product sampling.
While experiential marketers have proved that their activity can deepen consumer engagement, one of the biggest challenges they face is to further strengthen the industry's position­ing, so that live experiences become an integral part of brands' marketing activity, supported by other media.

Why should experiential marketing have a place at the top table?
DD We worked on a campaign for Fab Ice Lollies where the experiential idea and execution formed the basis for planning for all other media used. Experiential can increasingly be the agency that leads and it needs to sit at the top table otherwise campaigns will be restricted creatively and won't have the same influence.
MS Brands are becoming more defined by what they do than what they say. We work with O2, and consumers can't remember its 'Better connected' strapline – they think of The O2 and the brand's link with music venues. Every brief now needs to build an emotional connection with con­sumers. On the flip side, we have often been brought in at the end of camp­aigns, which makes our job harder.
SSF Brand owners have to have experiential at the top table as it does not have constraints. The only limit is our imagination.
TH Experiential has proven its worth in recent years. We can deliver an experience as part of an overall marketing mix, integrating much of what is treated as separate disciplines to answer a client brief.
AD We have noticed a shift in how more traditional agencies are react­ing to the growth of experi­ential. It is in their interests to be seen to be effective and the same budget directed at them is now being reconsidered for us.

Does the industry need better measurement?
SSF The important issue to consider is what brands actually want measured and for how long; [with] experiential, consumer engagement is much deeper than [with] other forms of marketing.
AM We are not traditionally an industry that measures the impact of what we do. We can get ROI figures in a day, sometimes in two weeks and sometimes in four. We need to demonstrate strategic relevance and show we can deliver.
CC Any measurement needs to be built in at the campaign's outset. The difficulty is measuring how close experiential gets to the point of purchase. With a high-price pur­chase like a car, it can be difficult to prove experiential was responsible.
JR Isolating experiential is very hard to do. We can create some diligent measures, but it depends whether the client wants to invest. We need to look at campaign effec­tiveness rather than proving that we are better than everyone else.
SR Measurement also depends on the type of environment where the activity is taking place. At festivals, for example, people will engage with what interests them there.

What excites you about the sector?
SSF The fact that brands [now] understand experiential and want to learn more. Previously, it was an afterthought. You only have to look at the statistics – there are now hundreds of agencies offering experiential expertise – a few years ago there were only a few.
AM We are a mature industry and can deliver projects for big clients. We are commanding a greater part of marketers' budgets and integrat­ing more with other disciplines.
AD Clients in the UK are taking more of an emerging-market approach to the medium – experi­ential in China and India, for example, is huge and this growth is exciting. There is a huge potential market to tap into.
MS The number of clients that are becoming open-minded and the opportunities this presents is exciting. Clients have seen experi­ential campaigns for the likes of Nike and Red Bull and seen other elements work for serious brands.
JR Clients should be excited about the industry's responsible nature. We are tied in to effective­ness and taking diligent steps to ensure that elements work.
SR There are more opportunities, but slightly less to gain in terms of fees. We've earned our right to our place and proven ourselves – we are fully rounded marketers.
Are there sectors or brands that are missing out by not investing in the medium?
MS There are certain micro-segments of the population that could benefit from it and where experiential has worked well in the past. We have done campaigns with the Pink Pound and some work for O2 aimed at the Polish community in the UK. It was an interesting experiential campaign as you could tailor the experience – it was so successful that O2 has tripled its budget for this year.
DH It's an amazing example of how a community is being given something tailored just for them.
SSF Financial institutions have traditionally used above-the-line or direct mail. We worked with a brand whose objective was to reduce the insurance claims and premiums for young children. We gutted a bendy bus for a children's roadshow to highlight potential everyday dangers to them. What can be perceived as a boring brand can actually do something exciting, and experiential is one of few media that can deliver this.

What work has pushed the boundaries of experiential?
DD Red Bull views events and customers' experiences at the core of everything it does. Ben & Jerry's has invested in its own event with the Sundae in the Park Festival.
SS The work by RockCorps has been surprising and innovative and offers something to the com­munity. Volunteers have to upload their stories online before receiv­ing a voucher and then have to recommend 10 others. It's a very real experience and CSR-focused.
JR Experiential isn't necessarily about giving away free things, but more about adding value.

What's the next challenge facing the industry?
DD The fact that clients sometimes call it experimental marketing. This is not an experiment.
SS There is not enough awareness of the medium and there is a need for better education.
CC We will see more experiential activities leading campaigns. Experiential understands brands' requirements and answers consumer expecta­tions. The risk is that it will not get supported in its execution, no one will turn up or it will be poorly executed. Experiential does deliver, but we need to prove to the client that we can do this all the way to the results. If we can confirm that we can directly influence that purchasing decision, then we can take our place at the top table.