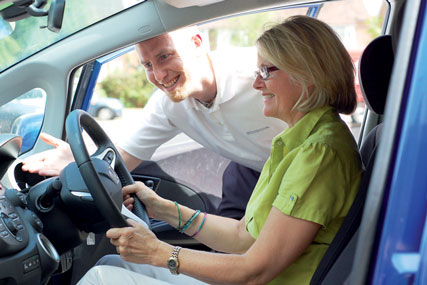 Experiential agencies are shaking off the recession blues and are cautiously optimistic about the future after finding a willingness by brands to spend money again in their search for additional ways to connect with consumers.
'We were worried the tough times would dissuade clients from using experiential activity and they would migrate back into the safe traditional areas. But interestingly that hasn't happened,' says Rob Allen, managing director of TRO. Bought by CPM in 2008, the agency has increased its staff numbers by nearly 10% in the past 12 months, maintaining clients across a good spread of sectors.
The main challenge facing the industry is the government squeeze on the public sector which, according to Allen, currently accounts for about 9% of TRO's business. However, of three of the company's recent wins, only one is now likely to go ahead in full, while another will be significantly reduced and the third may be axed.
Cameron Day, business development director at Iris, speaks for many when he says that, on the whole, 2010 has been a much easier and more profitable year. 'We have seen a lot of clients increasing their budgets, albeit with more focus on results and return on investment,' he says.
For example, the agency carried out small-scale activity at Glastonbury Festival last year on behalf of Sony PlayStation, but this year it has visited a number of festivals for the brand with activity on a bigger scale. It also carried out global campaigns with a World Cup theme demonstrating Sony's 3D products, while another contract led to Iris promoting Wall's sausages for Kerry Foods at festivals and selling its products on-site.
Day also notes an increase in opportunities for integrating campaigns with other disciplines. Several recent briefs were handed to PR and digital agencies simultaneously, with a request for all three to come up with ideas to solve a particular challenge.
RPM has had a good year, too, having persuaded clients such as vodka brand Smirnoff to extend their activity and winning new business from E.ON. The utilities brand sees the partnership as a way to engage interest in what is perceived as a low-engagement product, touring the country with an energy debate event.
'A lot of energy companies merely broadcast information, whereas this is about talking to consumers directly, with forums where they can talk back and help shape future programmes,' says Hugh Robertson, managing director of RPM.
Robertson has also noted a growing emphasis by clients on regulation, anxious to ensure that their agencies comply with legislation, particularly in relation to alcohol products, and with the brand's values.
A common theme this year has been the sense of opportunities opened up by the recession, as companies under pressure experiment with fresh approaches.
Retailers have been particularly keen to find other ways to drive footfall. Haygarth worked with Signet, owner of H Samuel and Ernest Jones jewellery-store chains, to create temporary 'pop-up' stores at London stations in the run-up to Valentine's Day. The outlets were designed to bring the shop to men on their commute to make it easier for them to buy a gift for their partners.
A similar example is BEcause's work with Body Shop to launch a DeoDry product. Agency staff painted a huge image on the floor of station concourses, to drive traffic to the nearest outlet.
According to ID managing director Paul Ephremsen, there is a trend for brands to opt for reach at the expense of quality of experience. This might bother industry purists, but it is something with which he is comfortable. 'The climate has meant brands are more concerned with market share and immediate return as opposed to full immersion,' he says. He cites a major sampling activity for Lipton's Iced Tea as an example, where the objective was to provide a taste of the product to as many consumers as possible.
However, Ephremsen worries that agencies are having to spend more heavily on new business development as the sector becomes increasingly competitive. 'Seven years ago we had no more than eight or nine competitors, but now there are more than 100 and it seems every week a new one springs up,' he says.
Recession has not been the only unwelcome factor to have been turned into an opportunity. The volcanic ash cloud that scuppered so many travellers' plans earlier this year was a boon to airport specialist Blackjack, as clients such as BAA faced an increased need to connect with customers.
Blackjack also carried out work co-ordinating activity in various European countries for Renault and Saab, as well as for Acer computers and Zurich Insurance. According to managing director Bezhad Saednejad, the relatively limited recessions in France and Germany meant big brands have been more willing to spend there.
A continuing trend is the emergence of social media as a means to amplify exper-iential campaigns. For Kraft's Mikado biscuit brand, Closer attracted consumers' attention with a giant box on the street labelled 'Do not push this'. When a passer-by's temptation inevitably took over, a staff member popped out to sound a siren or perform a similar stunt. Every reaction was captured on camera and the best posted online. Some 280,000 samples were distributed and the campaign engaged with more than 400,000 consumers face-to-face, of whom more than 60% opted for future communications.
Closer managing director Liz Richardson says that data collection is an increasingly important element in such campaigns, enabling the agency to monitor a campaign's performance against key indicators. 'It means we can collect consumer views about brands, which is a very powerful tool for marketers. We can use it to identify key battlegrounds and reach people with the highest conversion potential,' she adds.
At The Lounge, commercial director Sara Gil notes a resurgence of activity by brands eager to connect with young men.
A roadshow for Brylcreem that toured shopping centres offering hair advice raised the number of consumers likely to buy by 44%. Separate activity promoting Lynx shower gel involved bikini-clad, mud-wrestling women and reached 174,000 target consumers - this was praised by the brand as demonstrating the agency's 'unrivalled understanding of the audience'.
Business has not entirely returned to normal, though, with some agencies saying the obsession with ROI that grew during the hard times will endure. Iris' Day, however, says there is an upside to this: that the recession has killed once and for all the 'myth' that the effects of experiential activity cannot be accurately measured.
With so much promising activity, then, it is clear that experiential has turned the corner and the troubles of the past two years may prove to have been merely a blip on its forward march.
CASE STUDY - CARLSBERG/IGNITE
With the World Cup Finals taking over the day-to-day lives of millions in recent months, football proved a popular theme for experiential campaigns over the summer. One brand to adopt it was Carlsberg, which launched a patriotic nationwide roadshow ahead of the tournament.
Ignite took a branded interactive bus to major supermarkets and football grounds and used it to film fans making the motivational speech they would give to the England football team if they were the side's manager. The clip was then superimposed over film footage of Wembley Stadium's home dressing room to make it appear as if they were addressing the players directly.
Over a six-week period the bus travelled to 67 venues and covered more than 6000 miles - a greater distance than from the UK to South Africa.
With the tagline 'Probably the best team talk in the world,' The video became a virtual memento for fans to upload to their handsets and Facebook pages.
Social media is now a prerequisite for such campaigns, says Fred Porro, managing director of Ignite. 'Previously it was merely an added-value element, but now anything we do for brands has to be complemented by social media,' he adds.
Notes from league table:
Jack Morton Worldwide*
Founded 1939. Subsidiary Interpublic Group. Managing director Julian Pullan. Clients include Procter & Gamble, Thomson Reuters, Ericsson. www.jackmorton.co.uk

CPM
Founded 1936. Subsidiary Omnicom Group. Managing director Martin Ryan. Clients include GlaxoSmithKline, Wal-Mart, Mars. www.uk.cpm-int.com
TRO
Founded 1982. Subsidiary CPM Group. Chief executive Rob Allen. Clients include BMW, GlaxoSmithKline, Diageo. www.tro-group.com
RPM
Founded 1993. Privately owned. Managing director Dom Robertson. Clients include BSkyB, Diageo, Cadbury. www.rpmltd.com
Closer
Founded 1999. Subsidiary DMWSL 562. Managing director Liz Richardson. Clients include Unilever, Kraft, Transport for London. www.closerlive.co.uk
Iris Experience
Founded 2003. Subsidiary Iris Worldwide. Joint managing directors Nico Tuppen, Henry Scotland. Clients include Sony Ericsson, Sony, Kellogg. www.irisnation.com/experience
Carbon Marketing
Founded 1995. Privately owned. Managing director Wendy Hooper. Clients include HTC Europe, Yum! Restaurants, LV=. www.carbon-marketing.co.uk
Exposure Promotions
Founded 1993. Privately owned. Joint chief executives Raoul Shah, Tim Bourne. Clients include Scottish & Newcastle, Umbro, O2. www.exposure.net
BD Network
Founded 1990. Privately owned. Chairman Ghill Donald. Clients include Nintendo, Coca-Cola, Marks & Spencer. www.thisisbd.com
Ignite Europe
Founded 2003. Privately owned. Managing director Fred Porro. Clients include Vodafone, Carlsberg, Football Association. www.ignite-london.com
iD
Founded 1993. Privately owned. Managing director Emma Ede. Clients include Nestle, Britvic, Alpro. www.idexperiential.co.uk
Blackjack Promotions
Founded 1994. Privately owned. Chief executive Behzad Saednejad. Clients include BAA, BT, News International. www.blackjack.co.uk
Sledge
Founded 1995. Subsidiary Photon Group. Chief executive Nic Cooper. Clients include O2, GlaxoSmithKline, Beiersdorf. www.sledge.co.uk
Sense Marketing Services*
Founded 2004. Privately owned. Managing director Nick Adams. Clients include Muller Dairies UK, Canon UK, Vodafone. www.senselondon.com
Channel Advantage*
Founded 1995, Privately owned. Chief executive Tony Hall. Clients include Hewlett-Packard, Microsoft, Groupe Seb. www.channel-advantage.co.uk
The Event Business*
Founded 1984. Privately owned. Managing director Janet Walkden. Clients include Land Rover, Rimmel London, iSOFT. www.theeventbusiness.co.uk
Event Marketing Solutions
Founded 2000. Privately owned. Managing director Keith Austin. Clients include British Heart Foundation, Infinera, NHS. www.evetms.com
N2O
Founded 1999. Privately owned. Managing director Terrence Woodward. Clients include Unilever, Marks & Spencer, Virgin Media. www.n2o.co.uk
Haygarth
Founded 1984. Privately owned. Chief executive Sophie Daranyi. Clients include Procter & Gamble, Signet, Palm. www.haygarth.co.uk
Carlson Marketing*
Founded 1938. Subsidiary Groupe Aeroplan. Managing director John Hiney. Clients include Nestle, AirAsia, COI. www.carlsonmarketing.com
*Read the methodology below for reasons why these companies are not officially ranked
---
Methodology and Sarbanes-oxley
Information was collated by Marketing by sending a survey to each agency directly. We have separated field marketing and experiential agencies into two standalone leagues.
All the respondents have been ranked according to their 2009 turnover, apart from Fieldsmart, which has submitted figures for 2008. Jack Morton Worldwide, Sense Marketing Services, Channel Advantage, The Event Business and Carlson Marketing are affected by the Sarbanes-Oxley Act and cannot extrapolate their experiential figures from the rest of their marketing services, so we have been unable to rank them in the experiential leagues.
Marketing takes care to publish accurate company data, but cannot be held responsible for any errors or omissions in the leagues.
Source: Marketing Experiential Leagues 2010. Companies House data, collected by Kingston Smith W1, for agency affected by Sarbanes-Oxley Act. Data is for 2008.