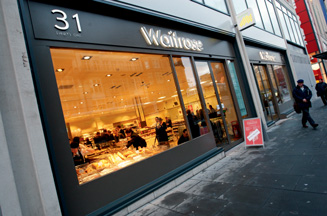 Under the deal, the retailers will stock each others' ranges, with Boots supplying health-care and well-being products, and Waitrose supplying Boots with a range of foods. In addition, pharmacies in 13 Wait-rose stores will be rebranded as 'Boots Pharmacy'.
Boots marketing director Elizabeth Fagan says the deal with Waitrose offers an opportunity to both businesses. 'We want to be truly accessible for our customers, as we recognise that many customers with increasingly busy lives shop from supermarkets for convenience,' she adds.
Alan Treadgold, head of retail strategy at ad agency Leo Burnett agrees that the two brands complement one other. 'The deal puts two middle-England brands together. There's a natural fit because of the confidence consumers have in both,' he says.
According to Fagan, the partnership will boost Boots' footfall and brand presence. 'We believe that potentially offering a selection of Boots products in Waitrose stores will strengthen our brand and encourage Boots stores as a destination,' she says.
'Working with a partner such as Waitrose will enable us to give our customers greater access to our products across a wider variety of locations, offering convenient access to our products when there isn't a Boots store nearby.'
Waitrose has set a target of eventually opening 300 convenience stores. According to research into the convenience market by grocery and food industry analysts IGD, published in April, the growth strategy means Wait-rose will be competing most directly against Sainsbury's, which has a similar number of 'Local' format stores.
Experts suggest that Wait-rose's plans are a natural next step in its business development. Jamie Trust, senior business analyst at IGD, points to a growth in single-person households and in the proportion of women in work, as well as a rise in the average time spent in the workplace, and a reduction in formal eating occasions as key drivers for the convenience market.
'Waitrose is investing in a sector that is outpacing the UK food and grocery market as a whole,' he says. 'Our figures indicate that the UK convenience market grew at 6.1% last year, ahead of the total market for the same period.'
Tesco, Sainsbury's and M&S already have a strong convenience-store presence but Wait-rose is well-placed to catch up. The successful launch of its Essentials range earlier in the year gives the retailer a spring-board to enter the market and a bigger geographical footprint will enable it take these products to a broader audience.
'For Waitrose, with a heritage of operating in smaller supermarket formats, there is a natural progression in format development into more convenience-focused outlets,' adds Trust.
See next week's Marketing for a profile of Elizabeth Fagan