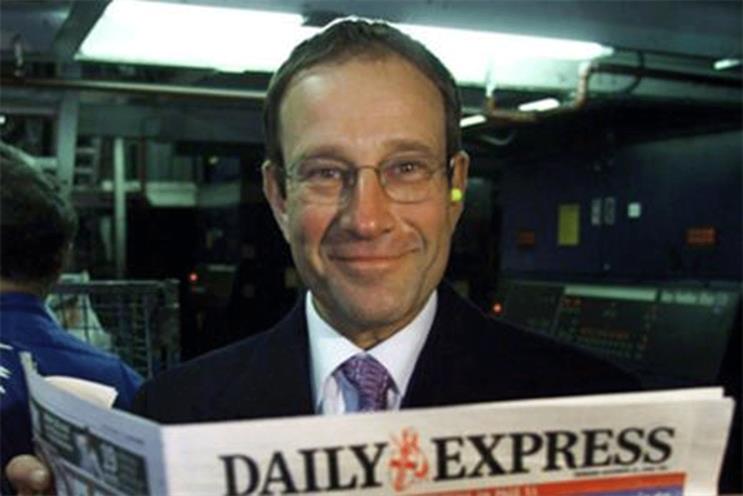 In April, Desmond was accused by the National Union of Journalists (NUJ) of being an asset stripper, and someone who had been allowed to "diminish and degrade once respected national titles".
The comments followed the media mogul implementing a 30 per cent cut in the national workforce as part of a £14 million budget reduction.
Desmond himself is believed to have amassed personal wealth of more than £1 billion, having sold Channel 5 to Viacom for £463 million last year.
It led to him being branded "Britain's greediest billionaire" by the NUJ, but now, for the first time on record, Desmond has responded by blaming the wider market conditions and costs involved in the newspaper business.
He told Campaign: "I think it's an industry thing. At the end of the day, I would love to give pay rises and I'd love to not make anybody redundant. I should also say, not that anyone would shed a tear, that I take £50,000 a year as my wages and have done for the last 10 years."
The owner of the group that includes the Daily Express, Sunday Express, Daily Star and OK! Magazine, also pointed to the £100 million investment in a new printing plant in Luton – "the best printing plant in Europe where we print 100,000 copies an hour, full colour" – and ongoing investment in developing the digital sites of the newspapers, and said "the cash has to come from somewhere".
Despite his critics, Desmond's holding company, Northern & Shell, is known for offering fair redundancy pay, and the proprietor insists "we always give enhanced terms".
He said: "The average wage at the Express is pretty good - £50,000, £60,000 up to £100,000… the kids that join are obviously different. Then you have their final pension schemes, two-thirds salary. It all mounts up. So, at the end of the day if you feel you can do better elsewhere then please go and do it."
Desmond's decision to donate £1 million to Nigel Farage's UK Independence Party during this year's General Election campaign proved to be another lightning rod. It was slammed as "sick-making" by the NUJ, and is known to have caused outrage among some of his staff.
Now 63 years old and with a book called The Real Deal about his life published this week, Desmond remains unapologetic and kicked back at those who criticise and try to use his own personal fortune against him.
He has detailed many of the last minute deals, failed partnerships and conversations with banks he and his senior executives have weathered over the years.
He said: "Let them do what I've done. They haven't done that. They've gone for, in quotes, an easy life, a lifestyle life. I'm sure they see their kids. In the 50 years I've been here, trying to keep it together. When [Jeremy] Beadle used to say to me, 'why aren't you at your kids school thing?' – well I've been here."
'Why didn't Mr Clever Clogs Paul Dacre do it?'
In his book, far from being an asset stripper, Desmond makes his case for being a saviour of Express Newspapers. Both his parents had spent time working on its newspapers and Desmond talks of a "curious connection" throughout his life.
So, when it became known to him that Lord Hollick might be interested in selling the Express titles, Desmond had a "sense of destiny" as he set about deals so that he could be in a position to table a £100 million bid.
One of his senior advisors at the time, Stan Myerson, now group managing director of Northern & Shell, put his honeymoon on hold to help secure the money to buy the Express in 2000.
According to the media mogul, Jonathan Harmsworth, now Lord Rothermere and controlling shareholder of the Daily Mail & General Trust, had offered to buy the Daily Express and Sunday Express for £200 million on his first day as the new owner. The implication being, if he wanted to just make a 'quick buck' he could have done so.
He told Campaign: "For the Express I put every penny I had in the world in, and then people say to me, 'well we could have done that' – well why didn't you do it?
"Why didn't Mr Clever Clogs Paul Dacre [editor of the Daily Mail] do it? I'm sure he could have got funding a lot easier than me, why didn't he? Because he's got no balls, because he's not entrepreneurial."
Desmond recalled: "We had the bailiffs coming in on my Wedding Day in 1983, making Paul [Ashford, editorial director] late for my own big day. I explain in the book how I held the wedding around the music show because all the advertisers were there.
"Meanwhile, my driver took three weeks off for his honeymoon to Cancun, thinks it's wonderful. Well I didn't take three weeks off [after getting married], I took four days off."
In an attempt to better explain the often overlooked personal risks that have propelled his standout financial success, Desmond references a conversation with another well-known business innovator.
He said: "I had Luke Johnson [entrepreneur and former chairman of Channel 4] in here a few weeks ago and we were saying what makes an entrepreneur is a bloke that will put his house up and will write a cheque out. I'm not saying that's good or bad, but it's what you do.
"The Health Lottery has cost £85 million, I don't expect the Express staff to chip in. In fact, the Health Lottery spends a lot of money in the Express, so it goes that way round. I'm not criticising people. It's probably a far less stressful life.
"But I can handle it, a lot of people can't. A lot of people freak out if you move a desk in someone's office or a clock."
Read more from Richard Desmond in this week's Campaign magazine