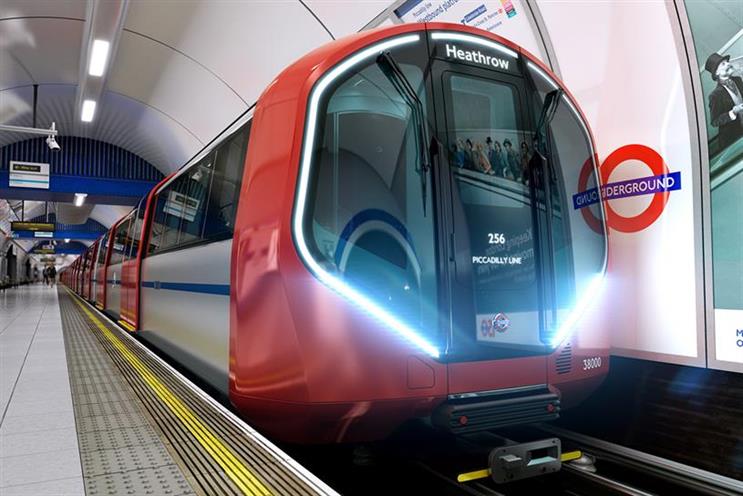 On the back of winning Transport for London's outdoor advertising contract in March, Exterion has created a refresh of advertising space and new ad formats across a bigger digital out-of-home footprint. Exterion's contract with TfL began on 1 October.
At its upfronts event in London this evening, Exterion said Hello London will comprise large digital display screens, launching this year in Canary Wharf, with more planned in key locations.
There will also be a complete refresh of escalators at underground stations, which deliver sequential messaging to customers, as well as digital ribbons with continuous ultra-HD LCD screens running along the entire length of the escalator.
Key dwell time locations will also be given larger HD display screens.
Exterion will also build inventory on the new Elizabeth Line (known during construction as Crossrail), which will add to London's rail capacity by 10% when it becomes operational in 2018.
It is the first time that TfL is providing the opportunity to advertise to one London audience across all tube and rail.
Hello London is powered by Audience Behavioural Insights, a bespoke tool that collects anonymous data from Telefónica UK's 25 million O2 customers, allowing Exterion to infer a profile of a tube station's audience and provide feedback to media planners on campaigns.
Exterion also presented The Engagement Zone, a piece of research demonstrating the effectiveness of advertising on the London Underground. The study used a combination of eye tracking and skin conductance response data from 100 underground commuters, as well as interviews and surveys through Exterion's 11,000 strong consumer panel, work.shop.play.
It says the majority (80%) of people who don't like TV ads like underground ads, while 73% have time to take notice of them and six out of ten claim the ads provide a welcome distraction while travelling.
Digital panels increase average attention levels by 40%, the research says, while increasing engagement by 24% compared to traditional panels.
Shaun Gregory, Exterion Media's chief executive, said: "The launch of our Hello London media partnership is a statement of intent and purpose for Exterion Media and Transport for London, working together as one team to deliver a truly world-class advertising offering through the transport network. It is how we plan to deliver on our vision of becoming the most effective and accountable media channel in the capital, and beyond.
"The OOH industry has been too slow to innovate; the market has needed transformation. We intend to shift gears quickly. We recognise the need to stop talking assets, and start talking about the consumer. Together with Transport for London, we will re-write the rule book and move towards audiences and unique consumer experiences. Advertisers care about audiences and engagement, because that's what matters."