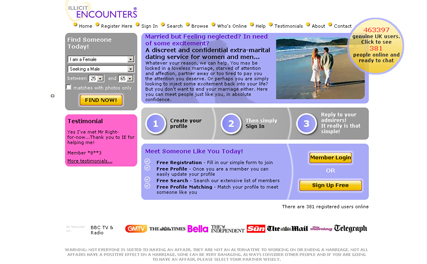 The site, which aims to provide a safe and non-judgmental environment where married men and women can meet each other, currently has over 450,000 members in the UK, and is looking to expand its database through a series of mainstream ad campaigns.

However, a spokesman for IllicitEncounters.com said that it had so far struggled to secure commercial spots in mainstream media, having been refused permission to advertise by some magazines and broadcasters, which label the service as explicit and offensive.
IllicitEncounters.com claims that it is a legitimate service with inoffensive advertising ideas, and is keen to enlist the help of ad agencies to help it reinforce this message.

Adam Scott, the chief executive of Illicit Encounters, said: "Today, our brand is more widely accepted than ever, but we're looking to go further. As long as the execution is delicate and the message is consistent, we think television advertising in particular could be a hugely beneficial avenue for us."