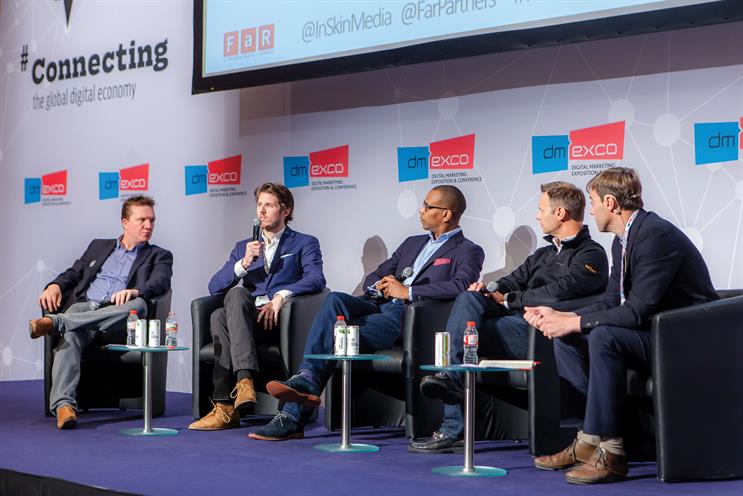 feature brought to you by InSkin Media…
It all boiled down to that hottest of topics: viewability. Ad impressions do not necessarily equate to eyeballs. But can you actually measure viewability, particularly if it's a non-standard ad format?
InSkin Media realised that viewability results across its non-standard ad formats could differ by as much as 80 per cent on the same campaign when measured by different vendors.
So it commissioned FaR Partners to dig deeper and research experience of viewability measurement and opinion of viewability standards across the industry. FaR found that more than half of senior digital executives consider the current Internet Advertising Bureau/Media Rating Council viewability standards to be inadequate.
When it comes to ad delivery, what are you selling and what are you buying?
In front of a packed industry audience at Dmexco in Cologne, ad buyers, ad sellers and analysts reacted to the news. There was a consensus: when it comes to buying viewable impressions, there's a long way to go.
"Our clients expect efficient digital campaigns, so they need to know whether their ads get seen. Terrifying figures can come out of viewability but the measurement is inconsistent," Charlie Lockett, the associate director at MediaCom, explained. "The clients want to be paying for viewable impressions. But there is no way to measure it consistently. It's not even a conversation we can have with client and publisher at present."
It's that uncertainty that irked Chris Morgan at the web analyst Moat: "This is a big industry. Change is a monumental task; there is friction. But, as an industry, we should demand precision, credit and independence."
The IAB has viewability standards that have worked well to weed out the fraudsters, InSkin Media's chief commercial officer, Steve Doyle, said – but they were just a starting point: "We need a more evolved measurement. What does '100 per cent viewable' mean? Is there an open-source model for non-standard ad units? A more communal way of measuring is needed."
A pure vCPM model restricts what you have to sell, according to Gerson Barnett at CBS Interactive: "Viewable impressions limit your inventory. This is where you need to go beyond standard formats to alleviate inventory issues."
Barnett added: "There's a danger of viewability obsession – it's just part of a bigger picture." The panel agreed on this.
Viewability is the gatekeeper to engagement but other metrics are important – perhaps more so. Lockett said: "Tech that measures context is useful. Do you want an ad with 100 per cent viewability that is sharing the space with other ad vendors or an ad with 70 per cent view rate but has a unique space?"

Education needed
Morgan suggested that the viewability topic had got out of hand: "It was never meant to be a success metric – it's a starting point. Just because the ad was in view doesn't mean anyone's paid attention."
Whether it's engagement, dwell time, context or any other factors, the industry needs to start educating its clients, Doyle said. It was the web's oldest metric that got him most heated: "When we started six years ago, we thought pretty soon click-through rates will be in the past – just because someone's clicked on an ad, it's no measure as to whether they've remembered that brand. Six years later, we are still desperately trying to educate the market."
And consumer behaviour has sped past the industry, Morgan pointed out. "They are shifting to digital at a faster rate than ad dollars. We need measures to know how to reach the consumers in that environment."
Lockett argued that the key to viewability is good content: "We're now able to see that ads are only in view for seconds – so, creatively, we're rethinking." The industry has to get people engaged.
Barnett believed we have to collaborate to find meaningful metrics: "We are getting hung up on viewability." Lockett agreed: "No-one has the answer but we should work together."
The Seminar
From left
Steve Doyle InSkin Media
Charlie Lockett MediaCom
Gerson Barnett CBS Interactive
Chris Morgan Moat
Dominic Finney FaR Partners