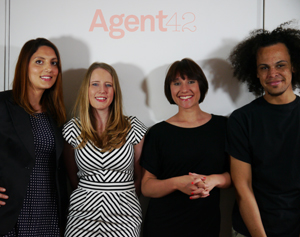 Based: Clerkenwell, London
Launched: 2013
Number of staff: 2
Key clients:
Acer
Gemini Devices
Nabi
BEM Wireless
What are your ambitions/goals for the business?
Our goals are to have a client in each sector and to create award-winning campaigns; to be a boutique agency, growing to ten to15 members of staff; to be clients' first port of call; and to be the best in the industry for our area of expertise.
What is your best piece of work or stand-out moment?
At The Gadget Show 2013, Birmingham NEC 2013, we created a stand-out experience for Acer called The Acer Explore beyond limits Challenge.
The centre of the stand was transformed into an entertaining and interactive challenge cube where consumers had 15 seconds to catch as many colour coded tickets as possible, while the tickets were blown around the glass cube. The immediate popularity of the stand was evident with queues of people waiting to take part.
Widescreens above the cube showed spectators the action close-up. This kept consumers entertained in the queues, as well as having their eyes on winning one of the fabulous prizes on offer, including sky diving courses, bungee jumping, adrenaline tubing and new Acer products.
What makes you a Fab 50 Newcomer?
Agent42 has big dreams. Our passion is evident to potential clients and since launching in January 2013, we have already accrued clients such as Acer UK, Gemini Devices, Nabi and BEM wireless. We do not intend to stop there.
Our desire is to keep working with innovative forward-thinking brands focusing on developing original, relevant and reliable creative content, bringing clients brand experiences to life. We have a refreshing transparency and trust with our clients.
Our focus is to approach interesting brands with exciting inspirational and simple creative ideas that will turn into unforgettable and award-winning campaigns. At Agent42 there is no hierarchy when it comes to creative ideas, everyone works together as equals to produce the best campaigns for our clients.
We don't over complicate things and this can be seen from our strapline - Engagement, Activation, Results. Agent42's ambitions aren't to become a big corporation with huge turnovers - our focus is to grow into a boutique agency, win awards for our clients and create work we are genuinely proud of.
Comment below to let us know what you think.
The full Fab 50 Newcomers list can be found in the June 2013 issue of Event. To subscribe to the magazine, click here.
Follow @eventmagazine