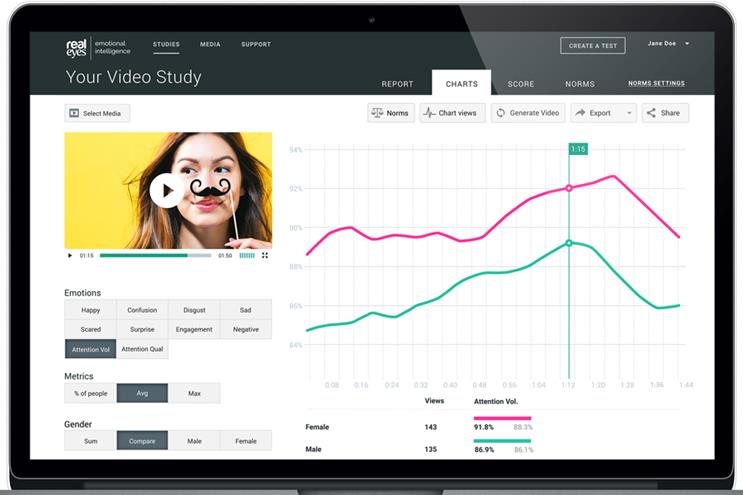 Brands can now find out how much attention they can expect their ads to attract before they are launched, a marketing technology company has claimed after launching a face-reading tool powered by artificial intelligence.
Realeyes' attention metric is produced using consumers' webcams to monitor behavioural cues, such as eye movements, blinking, yawning and head movements.
It is the latest tech lauched by the company, which has previously developed AI-powered software to read human emotions.
Advertisers will be given metrics that show the volume and quality of attention their content managed to attract, plus a second-by-second analysis of where consumers' attention grows or diminishes.
The tech was developed in collaboration with AI specialists from Imperial College London.
The system was trained with more than 14 million frames from 29,000 videos of people watching content and demonstrating various levels of attention. Each of these scenarios was ascribed an attention score by humans.
Realeyes claims the new tool is 4% off being as good as humans at detecting attention.
Realeyes, which was founded in 2007, has its headquarters in London and works with brands such as Mars, Hershey's and Coca-Cola. Its customers also include Publicis Groupe, Teads and Oath. Earlier this year, venture-capital group Draper Esprit led a $16.2m (£12.4bn) investment round in the company to help it grow its AI team.
Mihkel Jäätma (pictured, above), Realeyes' chief executive and co-founder, said brands "need all the help they can get to be heard" on an increasingly noisy internet and with the average human attention span down to eight seconds.
"Up to now, it's been difficult to measure that attention, with brands having to rely on metrics such as completion rates, which simply don't give the full picture," Jäätma added. "Just because someone plays a video until the end, it doesn't mean they were paying attention to the content."