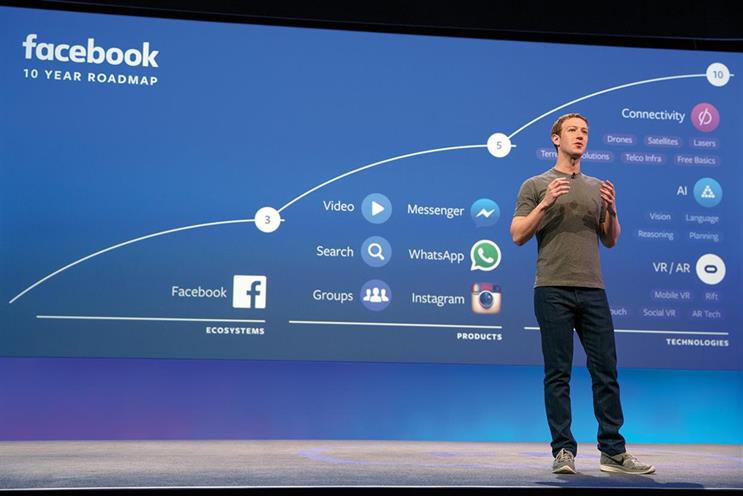 The internet giant's ad revenue for 2016 totalled $26bn, a 57% increase from $17bn in 2015, it disclosed during its earnings report for the fourth quarter and full year ended December 31, 2016, last night.
Of this, eMarketer estimates the UK to represent $1.8bn, up 31% from 2015.
In the fourth quarter alone, Facebook's ad revenues grew 53% year-on-year to $8.6bn. Of this, 84% ($7.2bn) came from mobile advertising revenue, up from 2015 when it was approximately 80% of ad revenue during the same period.
During the earnings call, chief operating officer Sheryl Sandberg noted that currently, Facebook has 65 million businesses using its free Facebook Pages product and five million are using Instagram Business profiles.
"More and more of these businesses are becoming advertisers with over four million advertising on Facebook and over 500,000 on Instagram. As a result, our revenue base is becoming more diverse. In Q4, our top 100 advertisers represented less than a quarter of our ad revenue, which is a decline from Q4 last year."
Debra Aho Williamson, principal analyst at eMarketer, said that while Facebook revealed several errors in the metrics that marketers use to measure marketing and advertising in the fourth quarter, she does not believe that its ad revenues are being impacted as of yet.
"I do think that marketers should be vigilant in tracking the effectiveness of their advertising on Facebook and not rely solely on what Facebook is telling them," said Williamson.
Daily active user numbers
Facebook's daily active users were 1.23 billion on average for December 2016, an increase of 18% year on year, with mobile DAUs at 1.15 billion on average for December 2016 (up 23% year on year). Of the total DAUs, eMarketer estimates 31.6m to be from the UK.
Monthly active users were 1.86bn as of December 31, 2016, an increase of 17% year-on-year, while of those users, there were 1.74bn monthly users on mobile as of December 31, 2016, an increase of 21% year-over-year.
Instagram
Instagram's daily active users climbed to 400 million and Facebook reports that its Stories feature reached nearly 150 million daily active users just five months after the launch.
While Facebook did not break down its ad revenue by platform, eMarketer estimates that Instagram generated $3.64bn in ad revenue, nearly double (96%) last year's.
"Instagram continues to gain momentum in advertising, most recently with the launch of ads in Instagram Stories," said eMarketer's Williamson. "I think Snapchat still has the advantage when it comes to coming up with new and creative ad formats, but Instagram has a larger user base, and its close ties to Facebook are very appealing to advertisers."
Facebook Messenger and WhatsApp
During the earnings call, chief executive Mark Zuckerberg reported that 400 million people now use voice and video chat on messenger every month, features that were introduced last year.
He added that WhatsApp has reached 1.2 billion monthly actives and transmits more than 50bn messages everyday.
"Facebook continues to roll out ways for businesses to market on its messaging apps, and last week it launched a test of advertising on Messenger," commented eMarketer's Williamson. "Although Messenger is widely used—eMarketer expects 39.6% of US internet users will use it this year—consumers have been slow to warm up to the idea of interacting with chat bots and paid advertising in messaging applications."
Meanwhile, she added, Facebook has faced scrutiny in Europe over its plan to merge data from WhatsApp with data from Facebook.
"These scenarios tell me that generating significant ad revenue from Messenger and WhatsApp is still a ways off," concluded Williamson.