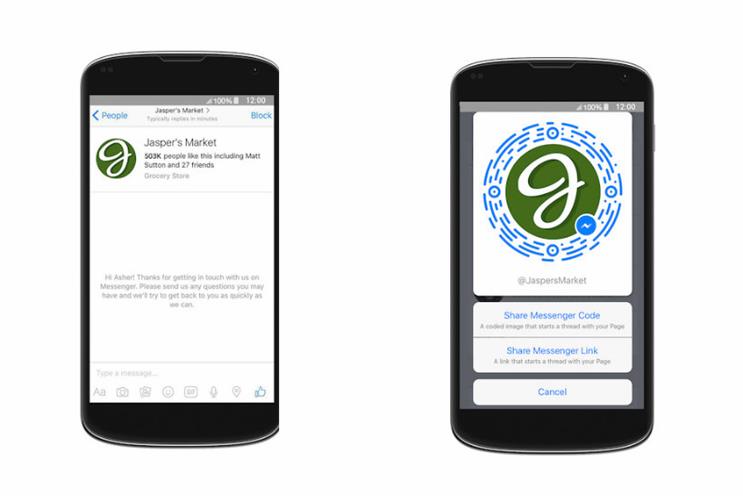 It's also expanding Messenger beyond being a friends-only service, making it easier for brands to talk to customers directly.
Currently, the majority of Facebook Messenger's 900m users are already friends with each other, and brand activity is rare.
With the scannable codes, any Messenger user can scan a friend or business' Messenger code to add them to their chat list.
Facebook is now giving every Messenger their own code, displayed in the settings tab as a series of dots and dashes around their profile photo. Scanning that code adds that person (or business) as a contact on Messenger but, presumably, not on Facebook.
In a post on the new functionality, Facebook explained: "No matter where you are, online or at an event, all you have to do is scan a code someone shares with you, and then you can start that important conversation.
"No more back and forth with texts trying to make sure you have the right number saved and awkwardly asking people how to spell their names. Your settings tab in Messenger has your own Messenger Code displayed prominently to scan or share."
As per Snapchat or Instagram, Facebook Messenger users are also getting their own unique user names, displayed as m.me/username. And Facebook is also making it easier for users to share a link to a specific Messenger thread.
The new features are a clear indicator of Facebook's ambitions for Messenger as a much more open chat service, where users can talk to customer service bots and businesses as well as their friends.
Facebook has a dedicated page on how businesses can use these new tools, since they boost Messenger's potential as a customer service platform. Businesses will be able to set unique user names for their brand pages, and communicate directly with customers over Messenger.
In much the same way certain brands include their Twitter handles in print ads, or their Snapcodes, Facebook is encouraging companies to use their new Messenger links and codes on their marketing materials "to prompt people to reach out directly".
Brands can also set up a welcome message for customers who add them, setting the tone for future communications.
Facebook also announced the 900 million monthly active user milestone.