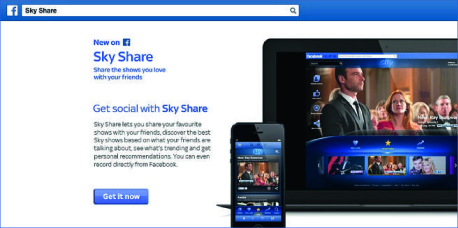 Campaign Sky Share
Partners Jam, MediaCom
Platform Facebook
Link https://apps.facebook.com/skyshare_fb
Background
Acting on the insight that people are more likely to watch a TV programme after hearing about it from a friend, Sky created a Facebook app to make it easier for people to share and recommend TV shows across the social network.

The aim
Increase installs of the Sky Share app by encouraging people to watch and share shows recommended by friends and record new shows remotely via Facebook.

The execution
Sky used Facebook's Custom Audiences targeting feature (which lets marketers find their offline audiences on Facebook using e-mail addresses, phone numbers, Facebook user IDs or app user IDs) to reach existing Sky customers in the news feed. Sky also targeted its Facebook fans and people who had "liked" certain TV shows to drive them to the Sky Share app.
The app links to users' Facebook accounts and generates stories when users watch or record shows or interact with content – ie. watch trailers or "like"/comment on shows. These stories are amplified using paid media to reach as many of Sky's target audience as possible in the place where they discover new content – news feed. Facebook also uses information about what's trending across friends' accounts to recommend new shows so that users can discover all the best Sky shows based on what their friends are talking about.
Custom Audiences enabled Sky to specifically reach the people most likely to be interested in the Sky Share app. In just ten days, the brand was able to reach three million people in their news feeds.
"Increasingly, customers are turning to social media to talk about and share the shows they love," Andrew Mortimer, Sky's director of brand and media, comments. "With such a wealth of choice of high-quality content, we know that our customers really value TV recommendations from their friends to help them get the most from their TV viewing."
Sky Share can be used by anyone on Facebook in the UK and Ireland. Sky users who link the Sky Share app to Facebook can control their Sky+ box to record shows remotely through the site – a Facebook first for any brand.
Iain Matthews, the head of planning at Jam, adds: "With Sky Share, you can finally record great programmes the moment you get a recommendation from your friends, directly from Facebook."
What the experts think
Facebook
Brad Little, head of vertical solutions
"There are many great aspects of this campaign. First, we hear a lot about big data, but not enough about its applications. Using Custom Audiences leverages consumer insight from Sky and Facebook data to deliver a service that adds value. Second, the result delivers the right service to the right people on the right device at the right time.
"Third, the social context unique to Facebook fuels adoption and user trust. Finally, the massive reach, combined with enhanced targeting options, enables this campaign to drive tangible business results. The great thing about this is we are learning to apply these approaches to drive efficient and effective acquisition programmes at scale."
Media
Richard Hocking, EMEA director of performance marketing and mobile, SMG
"What I like about this campaign is the combination of a smart use of Custom Audiences to link Sky's CRM data into its Facebook campaign to significantly improve the efficiency of its targeting, and also the clear understanding that social media marketing is strongest when it amplifies existing social behaviours.
"Sky is using a clever combination of earned and paid media to turn viewers into advertisers: targeting friends of viewers with messages about what their friends are watching. By bringing this model to Facebook, it not only increases the potential audience for that social endorsement but, importantly, means Sky can amplify the activity through paid activity."
Campaign
Marc Lee, product manager, Haymarket Business Media
"Every major product initiative from Sky at the moment seems to revolve around web-based products – whether that's the launch of Now TV or constant improvements to Sky Go.
"By launching an app for easily sharing content online, Sky is laying the groundwork for its future. So the real masterstroke, for me, is in utilising Facebook's targeting capabilities to reinforce and target its future audience in the same medium that its content will be consumed.
"Naturally, tapping into people's passions – and the ability to express those passions helps with the virability of the app – feeds into the hype of particular content, which is every marketer's holy grail."