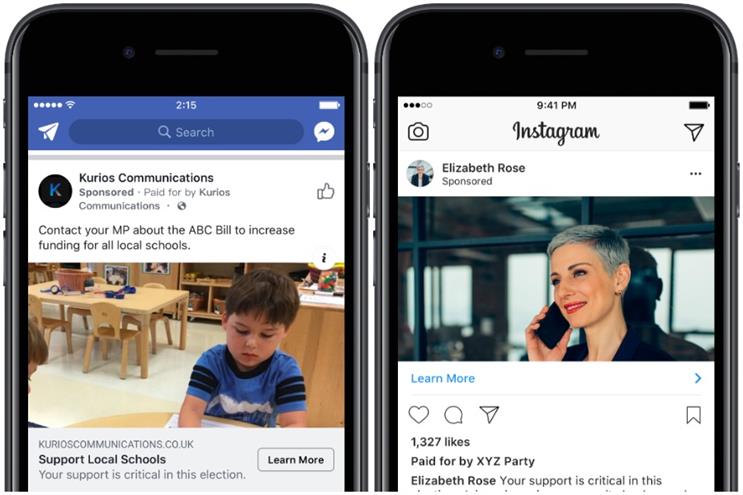 From this week, all advertisers wanting to run paid-for messages in support of political parties, politicians, and past referenda like Brexit, will need to verify their identity, such as by using a driving licence.
Advertisers on Facebook and its sister brand Instagram will also need to carry a "Paid for by" disclaimer if they are targeting people in the country with related ads.
"We see this as an important part of ensuring electoral integrity and helping people understand who they are engaging with," Facebook vice-president of global public policy Richard Allan and director of product management Rob Leathern said in a joint statement.
They continued: "We recognise that this is going to be a significant change for people who use our service to publish this type of ad. While the vast majority of ads on Facebook are run by legitimate organisations, we know that there are bad actors that try to misuse our platform. By having people verify who they are, we believe it will help prevent abuse."
The tools are housed within Facebook's "Ads Library" and have been launched following months of industry pressure on the social media giant to create greater transparency about where political ads are coming from and how its users are being targeted.
However, they stop short of introducing an opt-out for users who do not want to be included in customised lookalike audiences, where Facebook sells audiences to political campaigns based on people whose data profile is similar to their existing custom audience of known supporters.
Damian Collins, the chair of the UK Parliament's digital, culture media and sport select committee, an influential group of MPs, had called for the opt-out in an article for Campaign in April, a month after the Cambridge Analytica scandal broke in The Observer.
However, Facebook users will be able to more easily see who is funding a political ad by clicking on the "Paid for" label, which takes them to Ad Library. Information in the library includes the ad's budget range, a range of how many people saw it, and details of other ads that that advertiser is running.
The library is completely searchable and can be accessed by anyone, including non-Facebook users, on Facebook's Ad Library archive, which will store the ads for up to seven years.
Ads that do have political content, but are not labelled as such, can be reported to Facebook, which has pledged to take them down and add them to Ad Library if they are deemed to be unauthorised political advertising. The advertisers will then be prevented from running political ads until they complete the authorisation process.
The UK is the third country where Facebook has brought in a country-specific Ad Library, after the US and Brazil. The company is rolling it out on a nation-by-nation basis because each country maintains its own standards and laws over how transparent political advertisers need to be about origin and spend.
Paul Bainsfair, director general of the IPA, said Facebook's new tools "can only be regarded as a start" and that "much more significant action" was required to win back the trust of advertisers.
"While this latest development from Facebook may make some inroads into improving online transparency, this has to be set against the obvious point that political advertising remains unregulated and consumers have lost faith," Bainsfair said. "To win back their trust will require much more significant action."
Bainsfair also reiterated the IPA's call for all political creative work, across all media, to be listed on a public register.