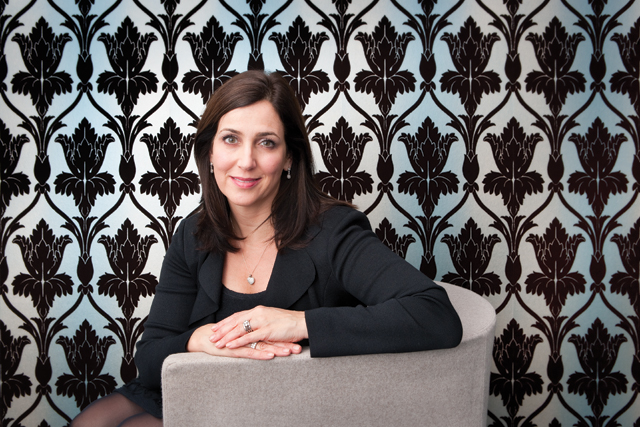 Neither Facebook's Carnaby Street office, nor the company's vice-president of EMEA, Joanna Shields, are as I expected them to be. The first misconception can be blamed on Hollywood. In The Social Network, Facebook's California office circa 2004 is a high-ceilinged, hi-tech and hot-desking space with a gigantic plasma screen displaying the membership number as it nears one million. Today, the cramped London office - which will soon be redundant when the UK staff move to Covent Garden - looks not unlike that of an expanding start-up.
Shields' true self, however, has not been exaggerated by film producers. Her image stems from press clippings that paint the picture of a ball-breaker: she was the Bebo chief executive who, in 2008, orchestrated its £550 million sale to AOL (which offloaded it last year for a measly £6.5 million). We read about a shrewd operator who was absorbed into the AOL network before leaving it to help Elisabeth Murdoch launch a digital media venture - only to quit months later for her current position.
Her ruthless commercial nous coupled with impeccable presentation make her the archetypal American businesswoman.
The first thing I notice are the teeth - they are a dazzling, brilliant white - but the take-no-prisoners media image is blown away by a sweet, giggly woman who describes her 27-year-old boss, Mark Zuckerberg, as a "visionary" who "blows my mind". I half expect Shields to whip out some homemade brownies as she holds forth on Facebook Places and the "like" button.
The latter has particular resonance for Shields. Her first day at Facebook coincided with its "f8" developer conference in April 2010, when Zuckerberg unveiled the tool. As well as allowing users to declare an interest in what their friends were doing, it seemed to open up a goldmine of opportunity for advertisers. It meant users could independently display their allegiance for a brand.
As Wendy Clarke, Coca-Cola's senior vice-president, integrated marketing communication and capabilities, has said, Facebook offers not only the most valuable form of media - earned - but shared media too. This tool, however, has been scrutinised by agencies, which want to know to what extent a "like" has real value.
For instance, a user can "like" something, only to never engage with it again.
Is Facebook closer to quantifying the true value of a "like"? "It's very difficult to put an exact value on it. We encourage brands to look at engagement as an equally important measure of success," Shields says.
She refers to research by Facebook and comScore showing that "fans" expose their friends to brands, which reaches an average of 34 times more people as a result. How many of these "friends of fans" actually go on to buy the brand's products, however, remains a mystery.
It is an issue that, understandably, bothers agencies. The million-dollar question is: how much does social media contribute to ROI? Shields admits that Facebook is more focused on tracking scale and reach than it is on attaching a monetary value to its members' activities. "In that way, we're more like television. We have a partnership with Nielsen, which measures the impact for brands," she says.
Part of the problem for agencies and their clients is that "F-commerce" is still in its infancy. The industry is grappling with ways of showing how investment in the platform translates to sales. There is, though, research showing that retail has the best click-through rates of all sectors on the platform and accounts for 36 per cent of impressions on brand campaigns. "It's getting there. That's what we're after here. We're working with Nielsen on that next stage of connecting that ad to that purchase," Shields says.
For Shields, one of the most exciting opportunities for brands on Facebook is its sponsored stories, where an advertiser takes a "like" and serves it as an ad to the user's friends. Research from the specialist marketing agency TBG Digital says ad click-through rates have increased by 18.5 per cent between the second and third quarter of 2011, believed to be driven in part by the sponsored stories offering.
"To work with a brand and help it activate a friend network or make that personal recommendation is where I see the true value of the platform for advertisers," she says.
The platform's great pace of change, however, has created frustrations in some quarters. Recently, alcohol advertisers were tripped up when Facebook developed the sponsored story format to include individuals' profile pictures within the ad. It meant alcohol brands could no longer create sponsored stories as they could potentially feature underage "brand ambassadors" - such as, in perhaps the worst-case scenario, a picture of a baby, which goes against Advertising Standards Authority regulations and The Portman Group guidelines. Shields says Facebook is working on a solution. "We're making sure sponsored stories meet the legal requirement so we wouldn't be marketing to people under 25. And we will have sponsored stories for alcohol clients as soon as this is resolved," she says.
Another concern from some agencies is that Facebook's sales approach lacks sophistication. In March, agencies were taken aback by the social network's demand that clients commit to a minimum investment of £50,000 to trial its check-in deals service, whereby retailers such as Starbucks can provide location-based offers. One media agency head of planning complains of being "sold to" more than being "inspired" by the platform. Shields, however, bats away agency speculation that discounts for its most loyal, high-spending advertisers have been canned. "The same relationship exists, but the contracts are between each agency," she explains.
It's understandable that agencies want to know where they stand with the platform, particularly as The Social Network portrayed Zuckerberg as uninterested in the commercial opportunities of Facebook. In the film, Eduardo Saverin, the Harvard student who co-founded Facebook and later sued Zuckerberg, is shown trawling the lengths of Madison Avenue to secure advertiser funding, while Zuckerberg is depicted as actively sabotaging meetings with potential partners. Does Facebook really care about its advertisers? "You can see from the work we've done around Facebook Studio and our partnership with the IPA that advertisers are important to us," Shields insists. "Agencies are poised to be the architects of effective social marketing."
What has been clear of late is that Facebook is doing its best to court agencies. According to research by the performance marketing company Efficient Frontier, Facebook adspend has increased by 25 per cent in the third quarter of 2011 compared to the same period last year, with cost-per-clicks increasing by 54 per cent in Q3 compared to Q2. "The most success we've had (with campaigns) is when we sit down with a creative agency and we become part of the planning process," Shields says.
The launch of Facebook Studio six months ago does help to prove this appreciation of advertisers. The project, which exists virtually but is gathering speed as a real-world community since last month's inaugural Facebook Studio Live event, allows the industry to share its experiences of creating campaigns for Facebook. It also exposes them to new products and enables them to learn, in Facebook's own marketing speech, to be "social by design".
Separately, a Facebook "Client Council" has been established that includes representation from McCann Worldgroup chief executive, Nick Brien, and the likes of Coca-Cola and Diageo, the latter of which has just struck a multimillion-dollar ad deal with Facebook.
Shields says it is an "exciting time" for the website. Facebook recently announced a wave of integrations with broadcasters and film houses, making movies and TV programmes, such as the BBC's Doctor Who, available on the platform via Facebook credits. Meanwhile in August, the Football Association and its sponsor Budweiser brokered a deal to stream the opening match of this season's FA Cup on the site.
In light of these developments, does Facebook view itself as a media owner? Shields shakes her head: "No. When you think of those movie studios as brands and how much value we can generate for them, this is just another way to monetise great content." Does Facebook intend to take it to the next level and create its own content? "That's not in Facebook's DNA," Shields says protectively.
What is in Facebook's DNA, however, is mobile. The company's recent move to allow members to tell whoever might be interested which friends they are with at a certain location offers, in Shields' eyes, huge potential.
"Mobile plays a big role in this whole system. I'm in the stadium, I'm tagging my friends, I'm at this location. It becomes a really interesting opportunity either to market something to you at that location or later on, because we knew you were there," she enthuses.
Right now, Shields says, Facebook is working with London 2012 sponsors on mobile applications. And after months of speculation, the company also finally launched its long-awaited official iPad app earlier this week.
She is more explicit in her appraisal of dual-screening between TV and online. "I think it's the biggest opportunity both industries have ever faced. When you can activate a community on Facebook to generate enthusiasm and excitement around what they're seeing on television, the whole circle starts to complete itself," she says.
Shields cites the recent Big Brother Facebook voting app created by Channel 5 as an example of this media marriage. "Almost every television commercial now ends with a call to action on Facebook. Why? Because it works," she says.
Three years shy of its tenth birthday, Facebook, now with a claimed 800 million members worldwide, has eclipsed all other social networks, including MySpace, Friends Reunited, LinkedIn and, of course, Bebo, combined. "I can't believe you're still talking about them," Shields points out.
What does she think of the accusations from some that AOL paid too much for Bebo? "Was I criticised? People made a bid - we didn't ask for the money, they offered it. They had 50 people doing due diligence and they came up with that figure."
As other social networks fall by the wayside, the competition between the technology giants Apple, Google and Facebook is fiercer than ever. At last month's f8 conference, Zuckerberg announced partnerships with major entertainment companies including Spotify and Netflix - a move that suggests Facebook wants our virtual lives to exist solely within the platform's framework, with no need for us to go elsewhere.
As if in response to Facebook's open graph plugins taking over the web, Google is just over a hundred days and an estimated 40 million members into its own social networking site. Is Shields, a former employee of the search engine, threatened by Google+? "I think it's exciting. The more people who are thinking social, the better it is for the market," she says - and she is not surprised that Google+ is demanding people use their real names, rather than pseudonyms: "You can't build a network of value without using true identity."
Shields won't comment on whether Facebook will float next year, as speculation would have it, or on claims that its $100 billion valuation is exaggerated in light of doubts over the effectiveness of the network's commercial strategy. "We're just building a business here, brick by brick, partner by partner," she emphasises. "We don't get distracted by that."
THE SHIELDS LOWDOWN
Age: 49
Lives: In Maida Vale, London, with husband, Andy Stevenson, the team
manager of Formula One's Force India, and a son
Music: I make mixes on the iPad; they're great for parties
Media: Television - I watch it online
Favourite newspaper: Financial Times
Always in the fridge: Diet Coke
Life mantra: Leave a situation better than when you arrive. I like to
leave a little bit of pixie dust
FACEBOOK 2011 STYLE
February - The platform invites British advertising leaders to its head office in Palo Alto, California, encouraging agencies to have an open discussion on what they can do with the platform.
April - Facebook Studio launches - a portal for the marketing community designed to inspire brands to be more creative on the platform. It spins off into the real-world event Studio Live, held first in the UK in September.
April - Partners the IPA to help educate the ad community on Facebook.
June - Establishes the Facebook Client Council, a body comprising industry representatives, such as from Coca-Cola, to help advise on marketing and advertising on the network.
October - Unveils a "page insights" tool so that "all pages on Facebook will be able to measure the value of social like never before". The site also creates a public metric called "People Talking About This", to show the conversations happening around brand pages.