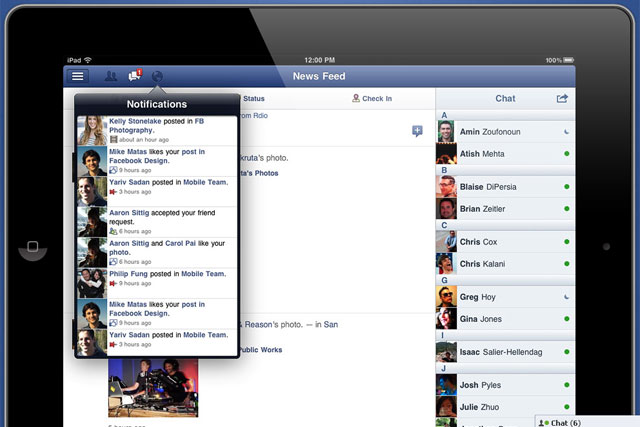 The app features a new layout for the site, with games, apps, groups and lists in a left-hand menu, and messages and notifications at the top of every screen.
It is available in English, Chinese, Dutch, French, German, Italian, Japanese, Korean, Polish, Portuguese, Russian, Spanish and Turkish.
Details of the iPad app were leaked in June, when reports said the product was set for release on Apple's App Store within weeks.
Last month, former Facebook engineer Jeff Verkoeyen, who had been working on the app, revealed in a personal blog that he had left the company because it had been sitting on the completed app since May.
Facebook's iPhone app is the most downloaded iPhone app to date and with mobile usage of the social network rising, its move to tablet devices has been hotly anticipated.
Users can currently access the site on the iPad via third-party apps such as MyPad and Facely HD.
Facebook and Apple have had an uneasy relationship in recent years and last year, Facebook's planned integration with Apple's music social network Ping was pulled.
It had been speculated that Facebook would be integrated into Apple's operating system for its devices.
In June, however, these rumours were disproved when the tech giant announced that it had tied-up with Twitter to integrate the microblogging platform into its iOS 5.
Facebook's move onto the iPad comes only weeks after it announced major changes to the site with the launch of its new Timeline and Open Graph.
Follow Daniel Farey-Jones on Twitter @danfareyjones