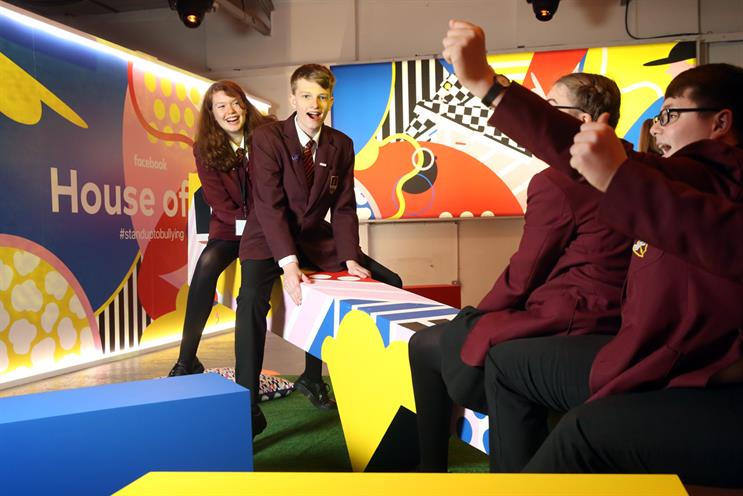 This initiative could see tens of thousands of pupils in 4,500 schools across the UK trained as Digital Leaders or Anti-bullying Ambassadors over the next two years.
With estimates that between 6% and 25% of children have experienced online bullying, Facebook is expanding its long-term partnership with the non-profit organisations to improve child safety and well-being through peer-to-peer support and learning.
"We had an idea about a year or a year and a half ago to have a child ambassador in every school," Caroline Milin, Facebook's safety programmes manager for EMEA. "We've been working with these organisations awhile and we've grown with them. But we have a responsibility to make sure that when we press go, they're ready to go. It's about timing and it's taken us awhile to get here."
Tessy Ojo, chief executive of The Diana Award, said that its peer-led methods are tried and tested and has transformed the lives of thousands of people in schools across the UK and Ireland.
"We know that what happens offline often extends to young people's online world, this is why we are proud to partner with Facebook, creating a community of young people who will help shape the behaviour and attitude of their peers; as well as take responsibility for the well-being of their peers," Ojo said.
"House of Us" exhibition
The two-day interactive exhibition, starting on 16 October, located in Black Swan Studios in Bermondsey, is aimed at both celebrating the extension of Facebook's participation and to bring the value of these programmes to life.
Using input from student ambassadors, the team at Livity, led by James Hogwood, creative director and Ty Stanton-Jones, creative created "The house of us".
The exhibition's goal is to bring to life online safety challenges young people can face. It also brings participants on a journey aimed at exploring the positive difference young people can make when they tackle these issues together.
While open to adults, the experience is primarily aimed at school children, groups of whom have been invited to visit.
"It was important that we made it cool and fun and not at all like a workshop they'd get at school," Stanton-Jones said. "So the approach is almost like a narrative series of art exhibits."
The six main features of House of Us are:
Find Your Way Out - This audio maze acts as the entry to the event and was designed to show how isolated and lonely people feel when they're bullied. As participants wander through the pitch-black maze, they listen to stories and hear the slights and insults bullied children face in school.


Stand Up Tall - To help get participants out of the dark mood caused by the maze, the next exhibit is an interactive wall. The participant's silhouette is covered in grey patches, and as they shake it off bright colours fill the outlines. Interactions bring about different illuminations.
Counter the Vibe - Central to the brightly coloured main room, with illustrations by Anna Jaks, is a seesaw that is heavier on one side than the other, it needs more than one person to balance it out. This is designed to show the power people have when they come together to outweigh bullying and unsafe actions online.


Light Up the Room - This is a dark voice controlled room which illuminates as positive words are said and supportive conversations are had. It works using Google's sentiment-analysis machine learning API and Cortana's speech to text function. Created by Convivial Studio, each positive word is illuminated and the room gets lighter. Negative words do the opposite.

Sharing Bring Us Together - It takes at least four people pedalling on bicycles to generate enough power to switch on a projector, activating a reel of funny, cool and amazing videos. This is aimed at demonstrating the positive power of sharing.
Bullying or Bants? - Perhaps the most education-centric part of the exhibition, here visitors have to classify scenarios as either bullying or banter. School children who have toured the exhibition have reportedly spent quite a while discussing whether a particular scenario is bullying or just a bit of fun.