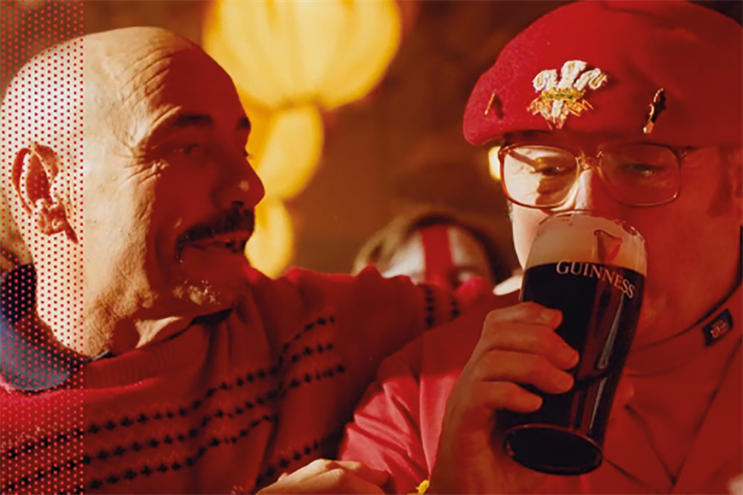 This year's Six Nations was the 20th annual competition and the first sponsored by Guinness, so Diageo really wanted to make its mark. It wanted to harness the public's excitement and engagement with the Guinness Six Nations, making the brand an intrinsic part of the communal rugby experience.
The creative team – including agencies Carat, iProspect, AMV BBDO and We Are Social – had just 12 weeks to turn around three new TVCs, plus OOH and an integrated social, PR and sponsorship campaign.
Standing out in the scrum
Social media was an essential part of the multi-channel mix, allowing Guinness to engage with consumers in an authentic and relevant way, based on their investment with rugby and their behaviour in the lead-up to each game. Emotion played a big part in achieving this, with Guinness focusing on real-life stories of rugby bringing families together. One video, "Purse", featured the Rees brothers from Wales, celebrating their late mam, who'd left money in her will with instructions to "spend every last penny on the Six Nations". Another told the story of Harriet and Bridget Millar-Mills, sisters playing for opposing Six Nations teams. The content was shared widely across Facebook and Instagram.
IG polls also engaged rugby fans by asking them to vote for the stadium with the biggest cheers, and users could put special Guinness Six Nations Giphy stickers on their Instagram Stories, displaying their pride in their team. Diageo also partnered with Spirable, the personalised video company, to direct fans to their closest pub or remind them to buy a six-pack before the big game.
Bonus tries all-round
The entire campaign created standout visibility in stores and stadiums, with extensive PR coverage. The "Purse" film was the best-performing rugby ad ever researched for Guinness, with a 7pt uplift in ad recall across the board and reinforced association between Guinness and Six Nations sponsorship.
A clear consumer journey, delivered via social media, took rugby fans from inspiration to engagement, through to ordering a pint of Guinness at the bar.
Winning stats
• Over 300m social media impressions and a reach of nearly 40 m
• Over 500 pieces of PR coverage with estimated views of over 16m
• The 'Sisters' film achieved 21.2% VTR (vs 17% benchmark)
• 54m video views
Doulla Croft, client partner, Facebook
"We had to mobilise very quickly to support the Diageo Six Nations Rugby 2019 sponsorship for Guinness, following it being secured at the end of 2018. Collaborating with our Creative Shop and Marketing Science partners here at Facebook, we worked very closely alongside the Diageo team, together with their creative and media agencies, to ensure the campaign would deliver on its objectives this year, and to measure outcomes so we could optimise and take learnings forward to future campaigns."
Jeremy Lee, contributing editor, Campaign
"This may have been the first year that Guinness sponsored the Six Nations but its impact was immediate, and because of this it's difficult to remember which brands went before it. Facebook played a pivotal role in the sponsorship, amplifying and enriching the rugby occasion in innovative new ways and delivering reach to massive audiences. Facebook delivers moments of communion in much the same way that the home nations come together to cheer on their national team, so the partnership was a logical one. What's more, because of the success of the campaign, the association between Guinness and the Six Nations is now synonymous."
Niall McKee, head of Guinness Stout Europe, Diageo
"I'm very proud of all the team has achieved in such a short space of time, but I really believe this is only the beginning. We have another five years for the current agreement and the aim is to learn and make the 2020 Guinness Six Nations even bigger and be er. We can't wait to get back to it again next year."