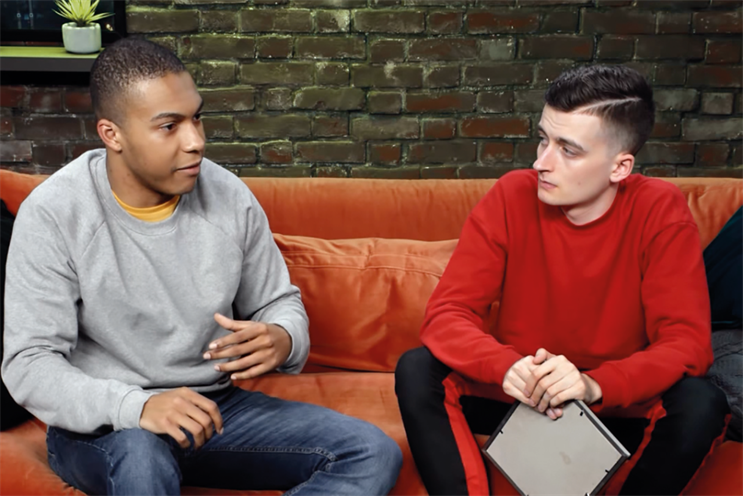 Hack for Good, hosted by Facebook, is a global programme that connects charities with creative agencies. It aims to build a campaign that has a real impact on a charitable cause. For the UK, the focus was to encourage young people to seek help when they need it most – partnering with mental health charity Young Minds to raise awareness of anger. The hack included top creative agencies AMV BBDO, Ogilvy and Publicis London, pitching a campaign to fulfil the brief. A panel of judges, including Facebook's EMEA director of creative shop Caitlin Ryan and Campaign's contributing editor Jeremy Lee, picked Publicis London's campaign. It used influencers, Stories and long-form content to encourage young people to "listen to their anger".
Six months on, where are they now?
The winning campaign now has two distinct parts – disruptive and activist-led. The disruptive part shows relevant influencers – Joshua Pieters, Jade Bowler and Jamie Shawyer – unbox an item relating to a time in their lives when they were angry. Publicis London creative, Ricardo Porto, said: "Social media can sometimes seem like a space where everyone has a 'perfect' life, especially influencers, so it felt like the appropriate platform to show the reality that some people may struggle with mental health issues, such as anger. And this campaign's goal is to show that, with support, people can overcome these issues if they 'listen' to their feelings."
Shahnaz Ahmed, Facebook creative strategist, said: "We've worked with influencers, to use the popular online 'unboxing' trend to physically unpack different elements of the emotion anger to help raise awareness and promote the action people can take."
The activist-led part shows real activists from the Young Minds charity share their stories about anger and tips for overcoming it.
The campaign also has influencers and activists come together in a long-form content series on IGTV where they interview each other about their experiences with anger. The content is running on Instagram through Stories and Feed posts: users can swipe up for more information, where they are then signposted to extra content or the Young Minds website to seek further support. The influencers have also shared the IGTV episodes with their followers, and Young Minds has partnered with LadBible to extend the content's reach still further.
Tom Madders, communications and campaigns director at Young Minds, says the input the young activists have had in the campaign cannot be underestimated: "They had input on the judging panel's decision from the beginning, at the hack day, because they loved the idea Publicis London pitched. They [the activists] have stayed involved the whole way along – taking part in planning meetings, feeding back on ideas – they've been an integral part and now some of them are even featuring in the ads, which is just amazing."
The young activists are "incredibly brave" to share their experiences to help others, explains Publicis London creative, Victor Bustani: "It's not easy to come and speak in front of the camera about things you've struggled with. And they are doing it in front of all of us and then online in front of a mass audience."
Young Minds activist Ben feels like he has been central to the campaign: "They haven't used us as a tool but put us in the driver's seat. I am also appearing in the content – the creative team decided to use real activists because we are authentic and our stories are real to us – and I was up for it."
The campaign launched this month on Instagram in the UK, and has already reached more than three million young people.
The fight for mental health
Young Minds is the UK's leading charity fighting for young people's mental health. It helps parents and professionals access the resources they need, influences government policy and creates campaigns to empower and advise.