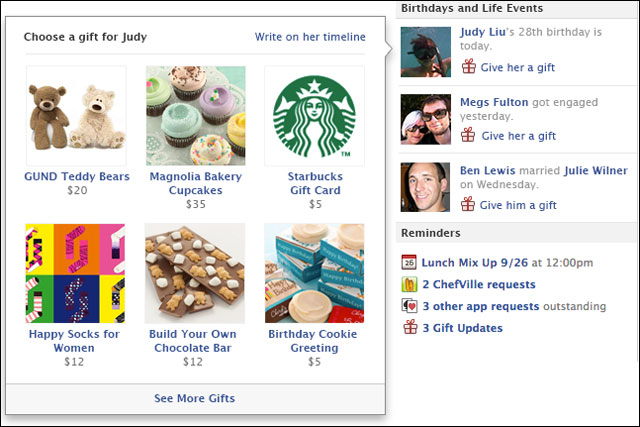 Users can choose a gift, attach a message and then post it to a friend's timeline or send it privately.
The recipient is then able to unwrap a preview of the gift and enter the address they want the physical version to be sent to, while the friend who purchases the gift is able to pay upfront or add payment details later.
Starbucks, cupcake firm Magnolia Bakery and teddy bear retailer Gund are the first companies to sign up to the US trial, after agreeing to a revenue-share agreement with Facebook.
The trial is currently only available to a small percentage of the US population and a timescale has not yet been decided for a rollout outside the US.
Previously, Facebook has explored virtual gifts. Its entry into the physical gifts market comes as the social network seeks to generate more revenues from its advertising.
It is currently in the process of removing more than 80 million fake accounts from the site in order to make the site a more attractive proposition to advertisers.

Facebook is also working with data company Datalogix on a project that involves tracking visitors' online buying habits after they have visited the social network, to understand whether users have bought a product after viewing an ad on Facebook.
Follow @mattchapmanuk