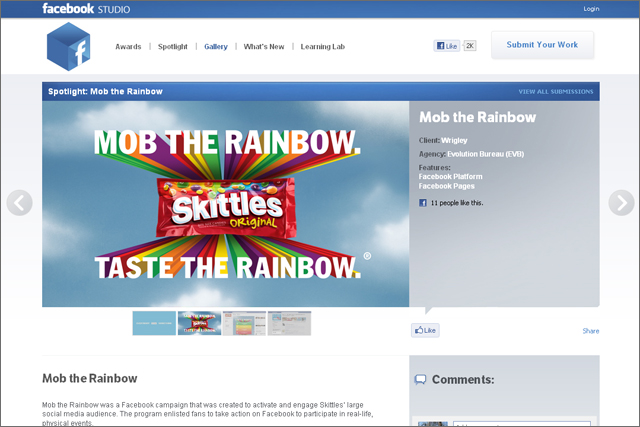 Facebook Studio includes work for Wrigley's Skittles 'Mob the Rainbow' campaign created by Evolution Bureau, San Francisco, and 'Heineken Trophy Hunt', by LBi Lost Boys, Amsterdam.
It is an open platform, allowing agencies and brands to submit their work and to comment on and discuss peers' campaigns.
The campaigns will be sorted into galleries based on most-recently uploaded campaigns, most-shared campaigns, region and language, and what friends are saying.
A selection of the best work will be displayed in the Spotlight section.
UK agencies involved so far are MEC, Maxus and LBi.
Facebook will also provide agencies and brands with information on how to strengthen their Facebook strategies through its learning tab.
Awards will also be spun out of this initiative, although Facebook is still working on the details.
The idea is part of Facebook's initiative to "inspire, educate and empower" the marketing and advertising community, and will 'highlight what's great' on the social networking site, according to Stephen Haines, commercial director of Facebook UK.
Chris Clarke, chief creative officer at LBi, said: "It makes sound business sense to showcase the good stuff and it's a fantastic resource for the industry, as we all try to figure out how to get the most from what is a unique global asset."
Earlier this year, Facebook hosted its first Influencer Summit at its offices in Palo Alto, California, inviting top UK agency creatives and executives to meet Facebook senior executives to "advance their businesses together".