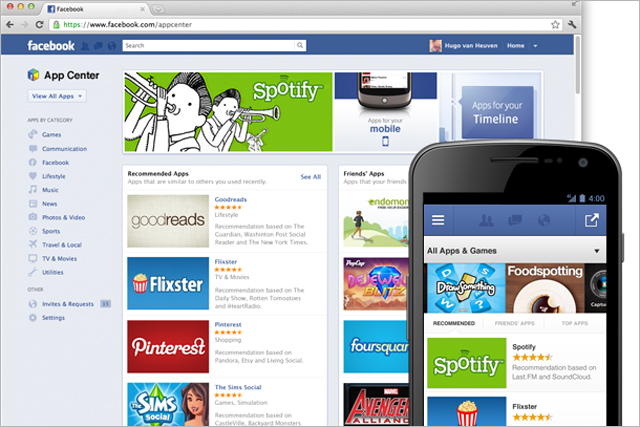 Facebook first announced news of its plans for an app store as a way to drive additional revenue streams through payments on the same day it admitted that migration of its users to mobile may negatively affect revenues ahead of the IPO in May.
The App Centre aims to showcase "the best social apps" from across the web and is available on Facebook.com, as well as Facebook's iOS and Android app.
At the moment the service is only available in the US but Facebook is intending to roll it out globally in the "coming weeks".
The centre helps users to discover apps for Facebook or directs them to Google and Android app stores if it has to be downloaded.
It will also allow developers to charge for Facebook apps for the first time and set up pages to promote their product on Facebook.
Consumers will need to use Facebook Credits to purchase the apps, meaning Facebook will take a 30% cut of revenue.
New apps created specifically for the App Centre include Ghost Recon Commander, Jetpack Joyride, and Ghosts of Mistwood.
The news comes in the same week Facebook announced it would be allowing advertisers to purchase mobile specific ad placements, rather then having to purchase them as part of a bundle, as part of the social network's efforts to boost mobile ad sales.
Follow Sarah Shearman on Twitter @Shearmans