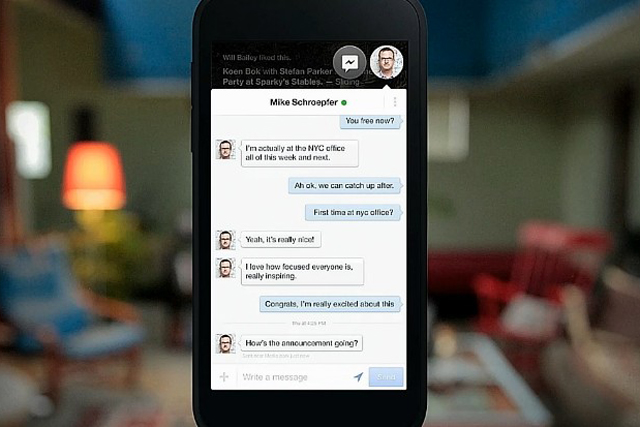 Home is not a phone, but a new home screen that can be installed across any Android device and essentially turns your phone into a Facebook phone.
Mark Zuckerberg, chief executive of Facebook, said that today phones were more about apps and Facebook wanted to make them more about people. He said that Facebook Home was a way to transform people's phone 'and "turn your Android phone into a great social device".
Zuckerberg said: "How would it feel if our phones were designed around people, not apps? Very different. We have our phones with us all the time. More and more we just want to know what's going on with the people around us."
How you do that in Facebook's world is to put the social network at its centre and this is what Facebook Home does by transforming the home screen of your smartphone.
Facebook Home, which to be clear isn't an operating system, will take up the whole screen on your device and allow you to access your apps, to read and respond to messages, browse newsfeeds and access other apps.
Zuckerberg said that the home screen was really the soul of a person's phone. He said it "sets the tone of your whole experience and we think that it should be deeply personal. It's a family of apps and it becomes the home of your phone".
One of the key parts of Facebook Home will be messaging. While messaging is currently treated like just another app, that isn't Facebook's vision. One tap on Facebook Home will take you straight to messaging. The Facebook Home app launcher will include all apps, including for instance Google Play, and not just Facebook ones.
Cover Feed – Cover Feed contains your live home screen updates. It will allow you to scroll through updates, which include big photos, as well as see comments and respond to them directly.
It also replaces the lock screen and home screen. Facebook calls it "a window into what's happening with your friends – friends finishing a bike race, your family sharing a meal or an article about your favourite sports team. These are the beautiful, immersive experiences that you get through Home".
Since Home is both your lock screen and home screen, the idea is that content comes right to you. This allows you to flip through to see more stories, and double tap to like what you see.
Notification pane – The notification pane will include your most important messages, including text messages. If someone posts on your timeline for instance, you'll receive notifications with their profile pictures. To open notifications, just tap them and if you don't want to deal with them right now, you can just swipe to hide them and keep flipping through cover feed until you want them back.
Chat Heads – this is a new messaging widget that appears in other apps and will allow you to have whole conversations without leaving the app you are in. Facebook showed how Chat Heads worked while in the New York Times app.
Joey Flynn of Facebook said: "Chat Heads makes you feel like your friends are always there. You can carry on multiple conversations with the people you care about, and you can tap back to switch.
"We wanted to focus on the experience, as it doesn't matter what app you use or technology, just as long as your friends are there."
Read more on this story on The Wall.
Follow @gordonmacmillan