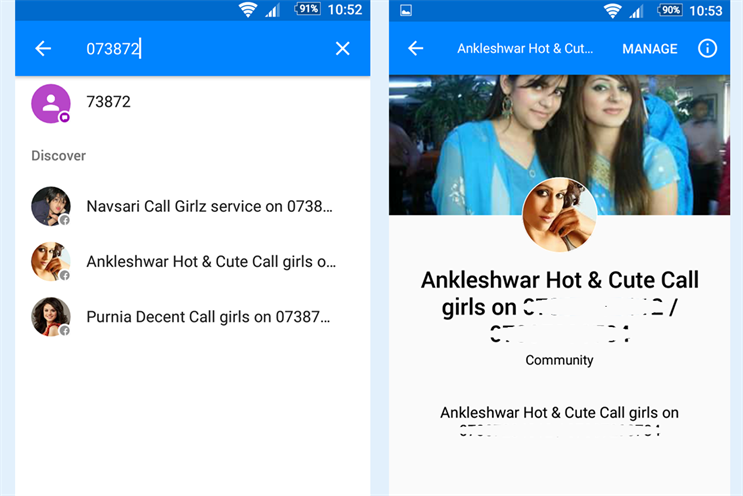 In an effort to turn Messenger app into a useful directory, Facebook has powered up its search to enable users to find companies' bots as well as search all of its company pages.
Unfortunately, as Campaign has discovered, if you search for a mobile number you could come across several rather unsavoury pages (see above).
Pages that turned up included escort agencies, call girl networks, abortion clinics and herbal healers. These pages show up alongside mainstream businesses.
A more deliberate search using an innocent word, "girls", turned up even more call girl agencies - along with a few interesting personalities alongside non-profit organisation, Educate Girls.
When contacted, Facebook declined to comment, but removed some pages - including the three "call girl" agencies featured in the above image - on the grounds that these pages violated the platform's policies.
Now, however, entering the digits 073872 into Messenger's search bar brings up a new result: Sirohi call girls service.
In December last year, Campaign discovered that Instagram was suggested X-rated content to users not searching for it.
Update: A spokeswoman for Facebook reached out to clarify that the pages mentioned in this article are pages and not bots. She also issued the following statement on behalf of Facebook:
"When pages or profiles are found to violate our Community Standards they are removed from Facebook. In this instance it seems that some pages could be found on Messenger. We are addressing this and are working hard to make sure it doesn't occur again. We are sorry it happened."