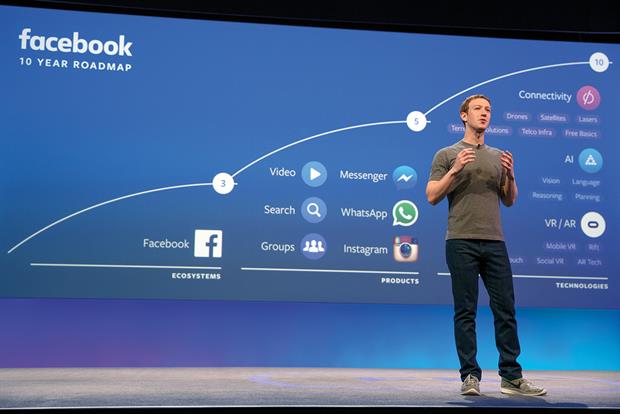 Facebook revenues surge on mobile ad sales
Facebook's quarterly revenue rose more than 50%, smashing Wall Street expectations, as its popular mobile app and a push into live video lured new advertisers and encouraged existing ones to boost spending.
The revenue surge helped shares climb to nearly triple the value of its initial public offering four years ago. Facebook also revealed a new class of non-voting shares that will allow founder Mark Zuckerberg to give away his wealth without relinquishing control of the social media giant.
Some 1.65bn people used Facebook monthly as of 31 March, up from 1.44bn a year earlier.
Zuckerberg claims users are spending more than 50 minutes per day on Facebook, Instagram and Messenger. Facebook is benefitting from advertisers shifting money from television to web and mobile platforms.
Source: Reuters
WPP upbeat despite potential Brexit
WPP has begun the year strongly after beating its target of 3% net sales growth in the first quarter.
WPP revealed like-for-like net sales increased 3.2% in the first three months of the year, while total revenues rose 5.1% to £3.07bn fuelled by a strong performance in the US.
The company said: "For the first three months actual performance was ahead of budget. We are in the process of reviewing our quarter one preliminary revised forecasts, but early indications are that full year like-for-like revenue will be up well over 3% and net sales growth will be up over 3%, with a stronger second half."
WPP boss Sir Martin Sorrell added: "We face the Brexit vote in the United Kingdom in June, where it is generally agreed by both sides that an 'out' vote will result, at least in the short term or mid term, in GDP weakness in the UK, the EU and possibly globally, let alone further political and economic uncertainty in the UK around Scottish independence and further disintegration of the EU.
"The pattern for 2016 looks very similar to 2015, but with the bonus of the maxi-quadrennial events of the visually stunning Rio Olympics, the UEFA Euro football championships and, of course, the US presidential election to boost marketing investments, as usual by up to 1%."
Source: The Guardian
Topshop launches wearables start-up programme
Topshop is seeking to bring technology-enabled fashion products to its customers with the launch of a start-up programme focused on wearables.
The Top Pitch programme aims to discover and co-develop prototypes that move wearable technology further into the fashion field while still retaining functionality that delivers for the user.
The initiative is run in collaboration with early stage investment company L Marks, which also helps John Lewis run its JLab incubator.
Topshop global marketing and communications director Sheena Sauvaire said: "The merge of style and function has yet to have been seen in a true consumer-ready sense and our aim is to discover new-to-market, highly desirable product at accessible prices for our fashion-savvy customer.
Top Pitch will involve a month-long bootcamp, which culminates in a presentation to Arcadia owner Sir Philip Green.
Source: Forbes
Catch up with some of our longer reads...
As Marketing explores creativity and design in its April issue, editor Rachel Barnes discusses what creativity means in the digital age and why we should all embrace these "disruptive, messy, exciting and sometimes uncomfortable and challenging" times.
The queen of the high street discusses how advertising was the last thing on her mind when designing the retail experience.
Have a listen to the Marketing Mind podcast...
Domino's head of digital Nick Dutch, and Iris' head of planning Ben Essen join the podcast to talk about their experiences at SXSW, discussing everything from capitalism as a valid economic model to whether marketers can ever ethically use brainwave-reading headsets.