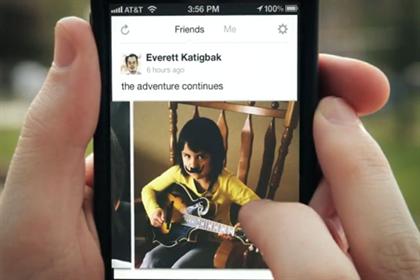 Fourth-quarter earnings hit $64m (£40.5m), compared with $302m a year earlier, on revenues of $1.59bn.
There was good news as well on the mobile front as the company announced that mobile revenues had doubled and that mobile users now exceeded desktop ones.
Overall ad revenue in the fourth quarter grew 41% to $1.33bn and chief executive Mark Zuckerberg said mobile revenue accounted for 23% of advertising revenue, compared with 14% in the third quarter.
Facebook reported 680 mobile monthly active users in Q4, of which 157 million were exclusively mobile.
Zuckerberg said: "In 2012, we connected over a billion people and became a mobile company."
However, its shares initially slid as profits fell. This was due in part to additional spending on research and development and the fact that some analysts had expected higher mobile revenues.
The overall feeling though was that Facebook had a solid quarter and its shares bounced back in late trading.
Eden Zoller, principal analyst at Ovum, said Facebook's results give cause for optimism and suggest the company is on the right track following its disappointing IPO and the lacklustre two quarters that immediately followed.
He said the mobile performance stood out: "What stands out from Facebook's Q4 results is the centrality of mobile for its service strategy and growth. Revenues from mobile advertising accounted for 23% of total advertising revenues compared to 14% in the previous quarter, with sponsored stories in the mobile news feed and app install ads proving effective.
"Wal-Mart alone delivered 50 million mobile ads to customers. This solid progress on the mobile advertising front should be applauded as a key challenge for Facebook has been how to monetize its growing mobile user base, particularly as an increasing number interact with the platform by only via mobile devices."
Follow @@gordonmacmillan