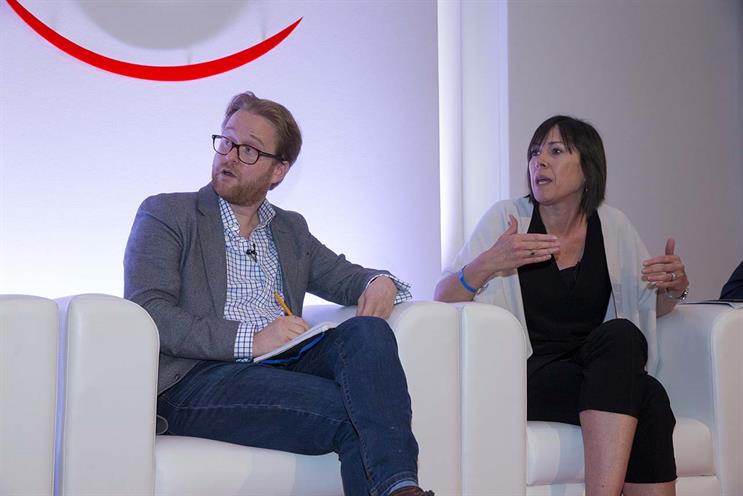 Newsworks executive chair Tracy De Groose hit back at the idea that providing consumers with more information on how ads are targeted to them will have any meaningful impact on consumer trust in advertising during a feisty panel discussion at Media360 in Brighton today.
De Groose was responding to comments from Facebook's director of agencies, Nick Baughan, that "education is key" in turning around the historically low levels of trust and favourability faced by the industry.
Baughan recalled conversations with taxi drivers from earlier in his career while at MEC. He said: "Nine times out of 10, the conversation would include the phrase 'dark arts' – but in those days there was a complicity, there was an allure, and an agreement that the consumer and advertiser were in it together. For advertising, that's trust.
"Now, the same phrase gets mentioned, but it comes with a sense of resentment. There's a sense that consumers are putting in and we're taking out."
Baughan argued that a key factor in undermining trust was that people knew they were being targeted by ads, but didn't know how – a situation that has, among other outcomes, led to a widely held belief that Facebook listens to people's phone calls.
"Complete transparency is a hygiene point now," he said, before claiming: "In this area, Facebook are really good. If you click on an ad on Facebook, it comes up with something that says 'Why am I seeing this ad?'" It's an option that will disclose some of the information used to target that ad to the user, according to Baughan.
"That's education – that's radical transparency," he continued. "That's what we all need to do. We need to find a way of explaining to people how and why they're being targeted. Once you drag advertising out of the dark arts and into the light, I think all ships will rise."
We've completely ignored the end user
Baughan's argument was roundly rejected by De Groose, who argued that it was ignoring the simplest factor of excessive frequency.
"This is so symptomatic of our industry," she said. "If people are getting annoyed with what we're doing, we just shout louder. We're bombarding them with ads and, rather than saying don't bombard them with ads, we're saying: 'We're telling you why you're seeing this ad' – and it's not enough. We have to think, it's reciprocity – what are they getting out of it?"
Referring to Baughan, De Groose acknowledged that it would be "very easy for me to look to my colleague to the right and say it's all their fault", but said that "we are all culpable. The fact is that we've completely ignored the end user. We've focused on the who and how much, and not the where and why."
Baughan and De Groose both said agencies needed to play a bigger role in tackling the problem.
"Both media and creative agencies have a huge opportunity here to make sure that frequency capping is considered at campaign level," Baughan said. "I don't think they get briefed by clients to look at excessive frequency."
Highlighting how he was continually being served ads for no-iron chinos, Baughan described this as a creative, as well as media planning, issue: "I wouldn't mind if someone was telling me a story about those chinos, but it's the same ad."
De Groose lamented that the pressure on marketing resources meant that "good old-fashioned media-client planning is dying… which is why a lot of money is going to the wrong places".
Tracking reach has become impossible
Also on the panel was Mark Evans, marketing director at Direct Line Group, who said one of the most severe problems for digital media was that feedback loops – the ability to "either know or influence your consumption of advertising" – were "absolutely bust".
"In many cases, when I click on 'Why am I getting this ad' or 'Can I stop this type of advertising', the mechanism doesn't work," he said. "This is the worst of all worlds. It's the pretence of control that doesn't follow through."
The current landscape may offer cheaper media to advertisers than ever before, but it was becoming increasingly challenging for marketers to run their campaigns properly, Evans said.
"We've had big bubbles of activity and noise around brand safety, transparency and data analytics," he said. "What's been lost from the conversation is the fact that, in a more complex advertising landscape, it is impossible to track reach and frequency. It's potentially easier within media channels, but across the whole it's nigh-on impossible."
Evans was blunt about the scale of the challenge for advertising: "More and more people are saying 'Advertising is dead to me'. That is a huge problem. You could say there are bigger trust problems in society, but this is existential for our industry."