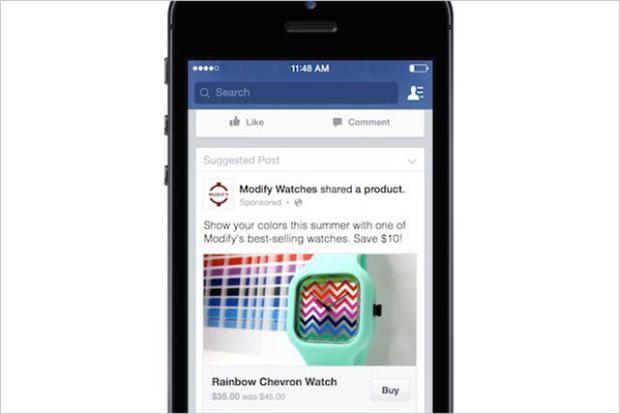 The rise in mobile advertising revenue is particularly impressive as the platform accounted for very little revenue in 2012.
Facebook said it has more than 1.5m active advertisers, and credited blue-chip deals such as that with Procter & Gamble for the launch of the Gillette Vector 3 razor in India.
In line with its revenue growth, Facebook claimed its user numbers are also on the rise. In the three-month period, the average number of daily users was up 19% year on year to 829m, with monthly users up 14% to 1.32bn and monthly users on mobile up 31% to 1.07bn.
Facebook has been developing mobile advertising, announcing earlier this month that it was trialling a "Buy" button on its News Feed and Business pages.
It has also recently transpired that the social network has been experimenting with its users, facing a barrage of criticism over revelations that it was manipulating their emotions. The furore led to an apology from chief operating officer Sheryl Sandberg.
Globally, eMarketer estimates that Facebook commanded a 5.8% share of digital ad revenues in 2013, up 4% on 2012, and expected to hit 8% by the end of 2014; while its share of global mobile adspend reached 17.77% in 2013 and is expected to increase to 22.3% in 2014.
Facebook founder and chief executive Mark Zuckerberg said: "We had a good second quarter. Our community has continued to grow, and we see a lot of opportunity ahead as we connect the rest of the world."
According to eMarketer, Facebook accounted for 5.9% of the digital advertising market in 2013, totalling £6.3bn, a market share that is expected to grow to 7.3% this year and reach £7.25bn.
Facebook has been on a spending spree of late, in March announcing the purchase of virtual-reality headset start-up Oculus Rift for $2bn, a deal that went through this week, as well as WhatsApp in February.
Thomas Husson, an analyst at Forrester, commented on the results. He said: "There's no doubt that Facebook has disrupted the app marketing space by becoming a key player in app discovery, which is the key driver behind its mobile ad revenues.
"It will thus be particularly interesting to see the evolution of Facebook app 'installs' and the extent to which brands are engaging mobile social users on Facebook to pursue other marketing goals than driving app downloads."