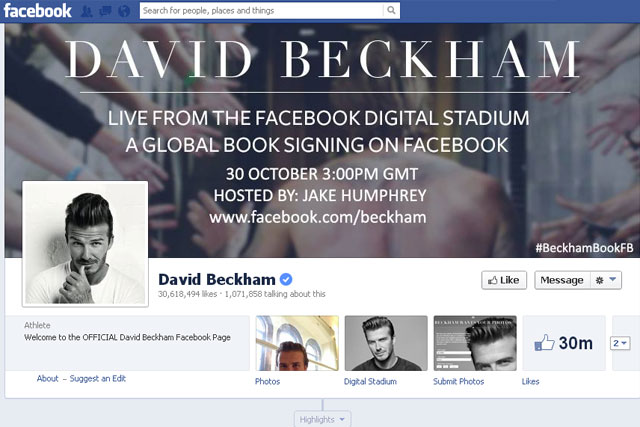 Glenn Miller, who leads entertainment partnerships for Facebook across EMEA, said yesterday's virtual book signing with David Beckham was one of the ways it was encouraging greater participation from celebrities.
Miller said: "We want more public figures to create more authentic content on the platform and we want more fans to be able to engage with public figures and the content they are publishing."
Yesterday, Facebook admitted it was seeing a drop in use among young people for the first time. David Ebersman, Facebook's chief financial officer, said the site experienced a decrease in daily users, specifically among younger teens.
Facebook hosted the virtual book signing with Beckham in a London studio and broadcast the event live on Facebook.
The live streamed event involved Beckham, who has never visited India, answering questions via a satellite link from fans in Hyderabad, India.
Miller said: "We got to see him connect with fans in India for first time. To be able to watch that and see that on Facebook it is something you can't get elsewhere other than Facebook."
Facebook has previously held a live event with Jessie J in the UK, but Miller said encouraging celebrities to create more "authentic" content can also come from photos or pre-recorded videos rather than live events.
Miller pointed out Lewis Hamilton as a high-profile figure creating authentic content and highlighted how the Formula 1 driver published content before and after his Grand Prix.
Facebook does not pay any public figures to publish content on its platform, according to Miller.
The Beckham event coincided with Facebook reporting its revenues for the quarter ending 30 September increased 60% year on year to $2.02bn.
Mobile advertising revenue represented approximately 49% of ad revenue during the third quarter as mobile monthly active users increased 45% to 874 million.
Facebook claims total monthly active users increased 18% year on year to 1.19 billion.