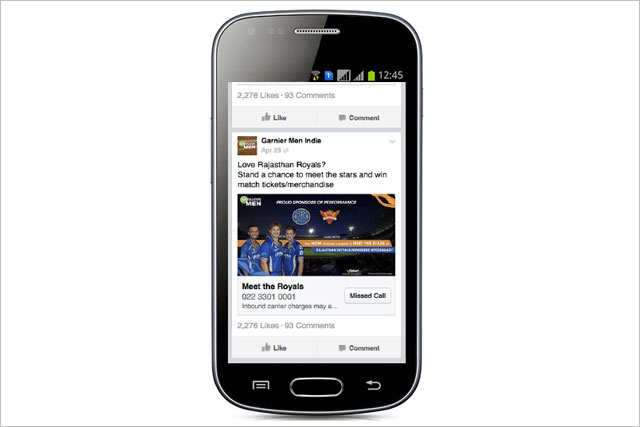 The mobile ads are being tested in beta mode with brands including Garnier. Users can call a telephone number displayed in the Facebook ad, which automatically disconnects, so they are not charged.
They then immediately receive a call back from the brand, with information like a survey, brand message or useful content. A branded message from the advertiser can also appear on the mobile phone screen.
The format has been created to mimic a habit in India, where people call a friend or family member but hang up before connecting, to send a signal but save credit or free voice minutes.
Last month at Cannes Lions Unilever won three gold Lions for its own audio "missed call" initiative in India, "Kan Khajura Tesan". When people phone the Unilever number they are called back with an audio stream of content and Unilever messages.
More than 100 million people are on Facebook in India, and 66 per cent of those experience the social network primarily on a mobile phone, according to Facebook.
Kelly MacLean, a product marketing manager at Facebook, said: "In high-growth countries, necessity often breeds creativity in mobile communication.
"In India, for example, there is a 'missed called' behaviour which started as a workaround for high voice costs. Facebook is testing an ad unit in India that builds on that behaviour.
"When a person sees an ad on Facebook they can click on the ad to place a 'missed call' directly from their mobile device.
"In the return call, the person receives valuable content, such as music, cricket scores, celebrity messages, alongside a brand message from the advertiser – all without using airtime or data. The early test results are positive, and we plan to scale the product in the coming months."
The feature is part of a variety of customised formats being created for local markets in developing countries. Facebook is initially focusing on Argentina, Mexico, Brazil, Turkey, South Africa, Nigeria, India and Indonesia.