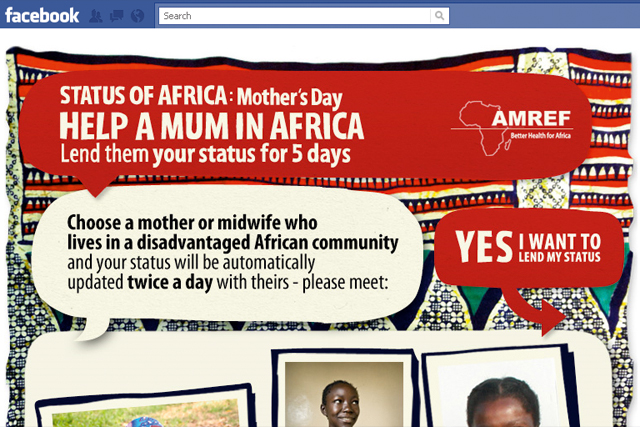 Timed to coincide Mother's Day in the UK, the project gives six women a voice to raise awareness of Amref's mission to train midwives and health workers to lower unnecessary deaths among pregnant women in Africa.
The women include two mothers, a midwife and an orphanage worker, based in countries including Ethiopia, Kenya and Tanzania.
BBH has created an app that allows Facebook or Twitter users to share their account with one of the women and update their status twice a day with a message from the woman.
One of the last updates will encourage people to make a donation and link to a dedicated page that explains how small amounts of money can help buy bikes and shawls printed with health messages while £250 could train a midwife.
The 'Status of Africa' campaign is supported by businesswoman Tamara Mellon and actress Fay Ripley.
The charity first ran a status update campaign by BBH last year and has timed this campaign to coincide with Mother's Day. Last year around 1,600 people lent their status.
In addition it hopes to run campaigns in France, the Netherlands, the US and Canada to coincide with those countries' Mother's Days.
BBH works with the charity on a pro bono basis.