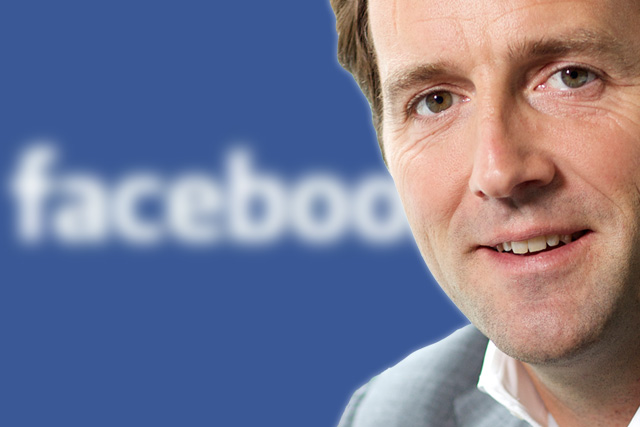 The leader of the marketing group behind Euro RSCG and MPG made his comments as Facebook's current market valuation of $68.8m represents a drop of a third (more than $33bn) since it became a public company last month.
For Jones, whose global client portfolio includes Adidas, Coca-Cola, Danone, Procter & Gamble and Reckitt Benckiser, the panic-mongering is typical behaviour, and he adds "I do not buy it at all".

He told Campaign: "I personally think that Facebook will be more valuable than Google. All this stuff around Facebook and the IPO, [with doubts over ability to monetise] I personally don't buy it all.

"Today, Google has a $200bn evaluation, no one questions that, but if you think about it, it is a pretty much one vertical that you search, and is based on intent signals.

"Facebook can play across multiple verticals and it can do it based upon identity signals. So I think the potential is enormous across so many broader and different areas, not just advertising.

"That said, clearly there's a massive opportunity in the advertising space, it just has to be done in the right way."
Jones' comments counter the doubts emanating from some quarters, like those being continually expressed by WPP's chief executive, Sir Martin Sorrell, who remains unconvinced about social media's suitability to advertising per se.
Despite WPP spending around $200m globally with Facebook on behalf of its clients last year, a figure set to double in 2012, Sorrell admits he has a "fundamental issue" about interrupting social interactions.
He believes the next period could be crunch time for Zuckerberg and co, after 18 months of significant investment in trial and experiment lead procurement and finance to ask, 'where's the return?'"
WPP, whose global agency network includes Ogilvy & Mather, JWT, MediaCom and MEC, currently spends around $1.6bn for clients with Google, and this is expected to rise above $2bn in 2012.
Jones remains convinced of the site's potential, based on the experience of campaigns conducted by his own agencies and the feedback and the reaction he has been privy to in his role as member of Facebook's Client Council.
"What I've seen so far of the ROI work they have done is very compelling, it really is," he said. "I think they're demonstrating not just the return on investment in social media and Facebook, but also demonstrating how it works in the more social the advertising is, how much more effective it is."
Creative agencies will play a massive role
Jones believes creative agencies have a "massive role" to play in the evolution of Facebook as a branding and advertising platform, and its ability to achieve its potential market cap in excess of $200 billion.
"I think they are the key to success and failure, I really do," he said.
Drawing on the example of Evian's Roller Babies campaign, said to have been downloaded more than 200 million times, the 45-year-old Jones said: "On a simplistic level, nobody who received that said, hell, this is a commercial, why are you sending me this?

"It was highly entertaining, engaging content. If you start trying to push around very, very retail, sales-focused messages, people aren't going to want to engage with it."
The Havas global leader whose UK clients include Dell, IBM and Sanofi, ackowledges that Facebook still has much to do to win over the marketing community. But he points to the way it is being led, and the senior industry hires it has made with the likes of global VP of marketing, Carolyn Everson, and global creative solutions, Mark D'Arcy, as evidence it is travelling in the right direction.
He said: "This is a company that has 3,500 employees roughly. If you then work out how many of them are dealing with agencies and the advertising side of things, there's probably 500,000 of us and a hundred of them.

"It is exactly the same as Google in the early days, we were all saying they don't have the staff, and they are not responsive, and today everyone thinks they are doing a great job. I would say Facebook, if you look at the people they have hired and the talent they have put in place, it shows they are being very responsive."
By way of further example, Jones recalled his first Facebook Client Council meeting, which Zuckerberg joined via video link. "My question was, all my clients think Facebook's a really interesting platform, but if I take $10m out of TV advertising, or £1m if you're talking UK, and put it into Facebook, what's the return on investment?"
"He said, that's a good question, we should probably have an answer shouldn't we. Three months later they came back with some really impressive ROI work they had done.
"We were all really impressed because it could have been a nice, 'come along we're going to present our own thing', but they are really engaged, they really listened, they really act on what's coming back to them."
For Jones, who has written a book entitled 'Who Cares Wins', which details the importance of brand authenticity in the social media age, he believes Facebook sceptics should try and learn from Google's success eight years earlier, despite the naysayers.
Early days for incredibly valuable Facebook
"It's human nature to never learn," he noted. "If you go back to 2004 and the year of the Google IPO, everything that was being said about Facebook now, was being said about Google then, maybe at a slightly lower level because there was no big film [unlike The Social Network about Facebook's Mark Zuckerberg]."

"Of course, it is not absolutely guaranteed, they need to make the right decisions but I believe if they do make the right decisions then they will be worth more than Google are today, and they will have something which is incredibly valuable. And one of those areas will be advertising."
Criticising General Motors' very public withdrawal last month of around $10m in advertising from Facebook just days before it floated as "quite cynical", Jones stressed it remained "early, testing days" for social media in general, and the social network in particular.
How Facebook handles user data was recognised as an ongoing concern for the site, as it looks to commercialise its offering, but it was suggested Zuckerberg and city investors could draw comfort from the experience of media's largest traditional player.

Jones said: "As long as things are done in the right way, as long as things don't overstep the mark, as long as the privacy and the way people's data is used, is done in the right way, it [Facebook] can be unbelievable.

"And there's going to be a period of time where everyone's working it out, and sometimes they'll get it wrong and sometimes they'll get it right, but remember when TV advertising first came along no-one knew how to do it or how to use it. It's now a science. The same thing will happen."
Follow Arif Durrani on Twitter @DurraniMix