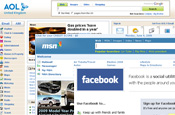 Social network Facebook has caught up with leading UK site MSN messenger in terms of time spent, with both sites attracting users for 2.4bn minutes in April 2008.
While this figure represented a year-on-year rise for Facebook of 1.9bn minutes, it was a fall for MSN, which last year clocked up 3.2bn minutes.
Alex Burmaster, internet analyst at Nielsen Online, said Facebook's challenge to MSN's dominance represented a "seismic shift" in the way people were communicating online.
Consumer-generated sites, such as YouTube and Facebook, experienced the biggest increase in online time, rising 47% year on year, while search engines, such as Google, increased their time by 13% and their entertainment sites by 8%.
Communication sites (such as MSN messenger) and traditional content sites (including portals, ISPs and Government sites) suffered the biggest decrease in time spent, falling by 10%, while traditional content sites fell by 3%.
E-commerce sites, such as ebay (1.7bn minutes in April 2008), and online e-mail accounts, such as Yahoo (0.5bn minutes), remained static.
Overall, Britons only spend an average of 4% longer online each month than they did a year ago.