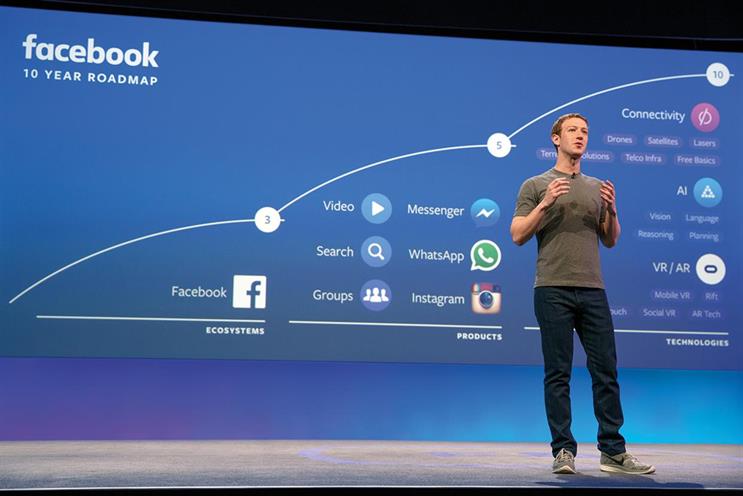 The Top Thirty Global Media Owners report ranks the world's largest media companies by media revenue, estimated by Zenith.
Facebook's success is down to the fact that consumers visit the site several times a day as their primary source for content, and the effectiveness of its native looking ads, according to the report.
It is the second year in a row that Facebook has been named in the report as the world's fastest growing media owner
Overall, Facebook is the fifth largest media owner in the world, rocketing up the rankings from 10th place last year, after its media revenues grew 65% year on year. Facebook still trails the largest media owner, Alphabet (the new name of Google's holding company), by a long chalk. Walt Disney Company, Comcast and 21st Century Fox are also bigger than Facebook.
Alphabet, which had media revenues of $60bn (£41bn) in 2014, continued to widen the gap between the second largest media owner, Walt Disney. Alphabet is currently 166% bigger than Walt Disney, compared to 136% the previous year.
The data cover the 2014 financial year, which Zenith said is the most recent year with consistent revenue figures from all the publicy listed companies analysed.
Pure play digital companies were among the fastest growing media owners in the top 30. Baidu, the Chinese search giant, is second-fastest, with media revenues up by 52% from last year, and Alphabet is third, up by 17%.
The reports come during a period when media owners are looking for more ways to monetise growing mobile audiences. Earlier this week, Google unveiled plans to serve sponsored pins and searches on its maps. Meanwhile Facebook launched Canvas earlier this year, a set of tools that enable creative agencies to make more immersive ads for mobile.
Ranking of Top 30 Global Media Owners 2016 (last year's ranking in parentheses)
Rank

Media owner

Rank

Media owner

1 (1)

Alphabet
16 (8)
Time Warner
2 (2)
The Walt Disney Company
17 (20)
Microsoft
3 (3)
Comcast
18 (15)
Asahi Shimbun Company
4 (4)
21st Century Fox
19 (19)
CCTV
5 (10)
Facebook
20 (21)
Hearst Corporation
6 (6)
Bertelsmann
21 (22)
JC Decaux
7 (7)
Viacom
22 (25)
Axel Springer
8 (5)
CBS Corporation
23 (24)
Mediaset
9 (28)
Baidu
24 (26)
ITV plc
10 (9)
News Corporation
25 (18)
Fuji Media Holdings
11 (11)
Advance Publications
26 (-)
Hubert Burda Media
12
iHeartMedia Inc.
27 (14)
Gannett
13 (13)
Discovery Communications
28 (27)
ProSiebenSat.1
14 (16)
Grupo Globo
29 (23)
Yomiuri Shimbun Holdings
15 (17)
Yahoo
30 (-)
Time Inc.